2019 Campbell Speech + Refugee Charity Fundraiser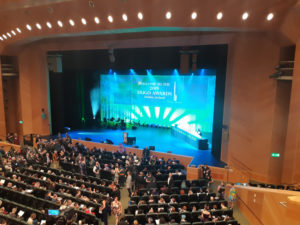 It was my honor last night to, for the second time, present the John W. Campbell Award for Best New Writer, on behalf of last year's brilliant winner Rebecca Roanhorse who couldn't attend this year. Many have asked me to post the text of the speech, which was unluckily disrupted by automated voice recognition subtitles on the screen behind me which garbled the words far too hilariously for the audience to keep from laughing, though it was very clear everyone tried hard. It's funny, I feel that in any other venue on Earth uproarious laughter during a very serious speech would have felt mortifying, but this community is both so welcoming & respectful and so fun & comfortable that, between the sea of faces scrunched by clear attempts to fight the laughter, and audible shouts of "We love you, Ada!" from the front rows during the laughter roars, it really just felt hilarious and warm.  I hope I find a video somewhere so I too can enjoy such disasters as "dog mechanism" for "dogmatic" and "Bored of the Rings and Cream of Thrown" for Lord of the Rings & Game of Thrones. More seriously, it was a great honor to speak again at this year's Worldcon, and I couldn't be more proud of Jeannette Ng's courageous acceptance speech, bringing attention to the crisis and violence happening right now in her home city of Hong Kong, and to the great responsibility we in the science fiction and fantasy community have to make sure that the theme of empire–which has numerous positive depictions in genre literature from space empires to the returns of kings–does not end up celebrating the dangerous, colonial, and autocratic faces of empire, and that as we explore empire in our work (including in my own work) we do so in ways which examine empire's problems and advance versions of empire which reverse or rehabilitate it, and which affirm the greater values of free-determination, autonomy, and human dignity.
Separately (though very much in that spirit), I'm working on some Charity Fundraising for Refugees, and will put details in this post below the speech, so please look if you're interested in helping!
JOHN W. CAMPBELL AWARD PRESENTATION SPEECH 2019 (Dublin Worldcon)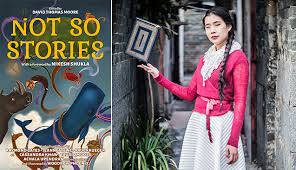 First awarded in 1973, the John W. Campbell Award welcomes outstanding new writers to the genre fiction community.  Last year's winner Rebecca Roanhorse could not attend to present the award this year, but as she and I corresponded about what we wanted, we focused first on our excitement that once again we are welcoming a brilliantly diverse group of new voices with perspectives long under-represented in literature, and second on how many of the finalists for this award administered by the World Science Fiction Convention are authors of fantasy.
In 1620 Francis Bacon published the first proposal for the formation of a community of scientists dedicated to exchanging ideas and collaborating to seek knowledge and technology that would improve the human condition generation by generation. When defining this new category of scholar—the scientist—Bacon described not mere encyclopedist compiling unsorted facts as ants pile sand in their anthills, nor dogmatists who weave elaborate spider webs of theory out of the stuff of their own minds untethered to reality. Rather the scientists like honeybees would gather among the fruits of nature and, processing those fruits through the organs of their own being, produce something good and useful for the world.  In this first and richest definition of science, authors of genre fiction are all scientists, all gathering among the fruits of culture, literature, history, scientific discovery and social discovery, and processing those treasures through the diverse and diversifying organs of our being to create worlds, unrealities, which, whether fantasy realms, or eerie near futures, worlds of cosmic horror or alternate history, are good and useful for this world which we make wiser by constantly comparing it to others, worse, better, different, alien, or eerily familiar.  In historical fiction, alternate history, and fantastic worlds we genre authors and readers test thousands of governments every year, far more than this little blue planet could ever give us room to try, and by so testing them we yield questions, and warnings, and broadened possibilities which enrich scientific understanding, political science, real government policy, and the palette of possible futures that we believe could come about.  There are youth activists striking around the globe today inspired in no small way by the heady optimism of dystopian revolutions or the fantasy overthrow of enchanter tyrants, narratives which celebrate our capacity to resist tyrannies by depicting the victory of action over regimes of terror far darker than any lived reality.  Sales of Orwell's 1984 which have skyrocketed worldwide over the past three years as we face new censorship and surveillance technologies, threats to the global free press, and authoritarian resurgence, but so have sales of Tolkien and of Game of Thrones in fact the whole world of genre fiction whose readers debate good government and when a war is just, and by so doing yield, as Bacon promised, those honey treasures that empower our teamwork to keep building a better and more examined human future.  So I say, in the best way, we here at the World Science Fiction Convention are all scientists, part of a community doing what Bacon envisioned, studying our world, testing our hypotheses in innumerable simulations, and thereby giving every generation new tools of empowerment, analysis, action, and global progress social as well as technological.  In that spirit please join me in honoring six outstanding scientists of worlds beyond our own: Katherine Arden, S.A. Chakraborty, R.F. Kuang, Jeannette Ng, Vina Jie-Min Prasad, and Rivers Solomon.
END SPEECH
So, on that note, I'm working with a number of fellow fantasy and science fiction authors, editors, readers & fans to organize two different things su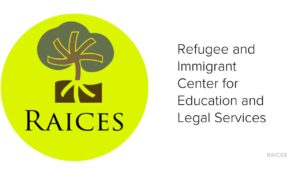 One project is "WORLDS OF WELCOME" an effort to raise money for refugees, in this case for RAICES to help those in the camps on the US side of the US-Mexico Border, by organize an online auction of items donated by the F&SF community: signed books, craft items, fanworks & merchandise, custom fiction, editors willing to give query critiques, or members of underrepresented groups willing to give sensitivity reads to in-progress fiction.  We hope the auction will run in October.  We are currently soliciting donations of items for the auction, and a few more people to help organize it. If interested, please email us at WorldsOfWelcome@gmail.com — more information to come in the next months.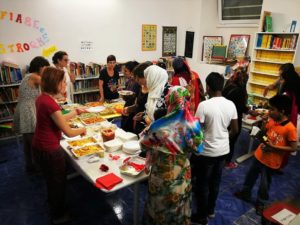 Separately, if you'd like to give immediate and ongoing aid to refugees, I've just helped launch a Patreon for Cittadini Del Mondo (Citizens of the World), a brilliant microcharity in Rome which cares for the needs of the thousands of refugees in Italy who slip through the international aid system. This heroic and incredible 12-person team provides thousands of refugees with medical services, legal aid, language courses, prenatal care, and runs an Intercultural Library containing literature and kids' books in refugees' native languages, to help people who have lost everything reconnect with their languages and cultures. With such a tiny group even a few dollars a month can make a huge difference in their ability to stock the clinic for winter, buy new socks and shoes for new arrivals, or provide a warm and welcoming place where kids can explore the world of imagination as we all treasure.  Please check it out (and pass it on!)