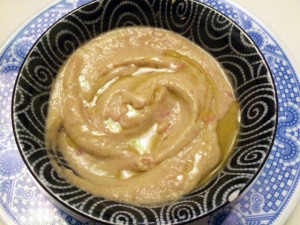 This takes 15 minutes (including all the cleanup) and gives you fresh veggies for a week. It involves no heat, and no chopping, just a blender. I developed this recipe during graduate school while trying to find ways to eat enough fresh vegetables to feel healthy while not having time to cook much. Even salad can be fussy, chopping and washing, but this cold vegetable soup can be made in large quantities and then eaten a bowl at a time as a snack or side dish (or even drunk like a smoothie). The recipe makes a large volume which will last in the fridge for a week or so, and thus give you a week's worth of healthy veggies with only a tiny time investment.
Ingredients:
5 large tomatoes
3 cucumbers
2 avocados, hopefully not rock hard
1 can (or equivalent) of broth (water + bullion or water + miso paste also works well)
2-3 tablespoons "or so" of red wine vinegar
2 tablespoons "or so" of lemon juice
1-2 teaspoons olive oil
salt (start with a quarter teaspoon, stir, add more if needed; depends on your taste, and the salt content of your broth)
black pepper (a "large pinch" or so; I usually grind my pepper grinder 20 times)
optional: some cloves of fresh garlic, and/or half of a small red onion (adding this makes it taste sharper)
optional: a dash of hot sauce, i.e. about  half teaspoon of tabasco, less if your hot sauce is stronger than tabasco (adding this makes it taste spicy; I recommend adding just a little, tasting it, then adding more to taste)
optional: a bell pepper, if you love bell peppers.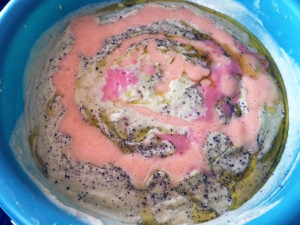 Steps:
Peel the cucumbers, and throw the peels away (or feed them to a deserving pet).
Combine all the veggies and liquids in a blender and liquify them.

I usually start with half the broth and a tomato or two, adding the avocado toward the end to avoid starting it off too thick (bad for the blades). If your blender is small you may need to do half of the veggies, then pour the resulting liquid into a big bowl, then do the second half, and mix it all together at the end. If doing it in two halves, make sure to do half the broth in each, and one avocado in each, to avoid letting either half get too thick.

Pour the liquid into a bowl, add the salt, pepper (and optional tabasco), stir until the color is homogeneous, and taste. You can add more salt, lemon juice and/or vinegar if it seems bland HOWEVER if you let it sit overnight the vinegar and lemon will coax more flavor out of the veggies and pepper, so the flavor will get stronger over time.

If you're feeling fancy (or making this for a party) you can save the olive oil to the end and drizzle it on the top – it looks all beautiful and golden.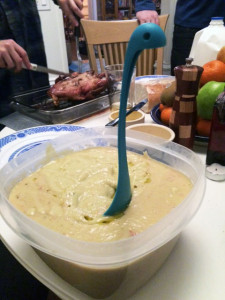 To the left, you can see the large container containing a complete batch. I think it's close to a gallon, and will last us a week or so. It's being guarded by Nessie! Our adorable dino-sea-monster-shaped ladle, with little feet to let it stand up in the pot so it doesn't sink in and get lost. Highly recommended! (You can get it from AnimiCausa).