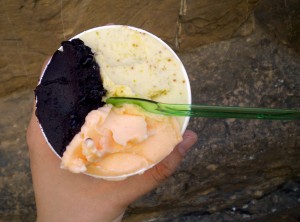 This page lists gelato places around the globe, so you can seek out excellent gelato wherever you are.  Many of these were sent in by readers, so I can't vouch for their quality first-hand. The ones I have tried personally are indicated in bold, and have notes about their particular strengths. Otherwise, the place is either a reader recommendation or possibly a location I haven't visited of a well-attested chain. Gelato places do sometimes close, so be certain to check the website before you go (if a place has one) to make sure it still exists. (Websites current as of December 2017.)
Know another good place?  Please leave a comment on the Gelato Thread, and I will add your recommended place to my list.

See also my guide to How to Spot Good Gelato from 15 Feet Away, and my general gelato discussion post: Relax, Have a Gelato.
International Chains:
Country-by-Country:
Australia:
Sydney has a branch of Rivareno (see above).  I've been to it and, except for a little bit of variation in the quality of some of the sorbet fruits, it's every bit as excellent as its Italian counterparts. Lucky Sydney!
Austria:
Bahrain:
Brazil:
Rio de Janeiro: has a branch of the chain Venchi. Ipanema – Rua Visconde de P… 22450-001 Rio de Janeiro
Rio de Jameiro: Vero, in Ipanema.  Alberto comments: "Vero is owned by a italian guy and is awesome. Its pistachio is just like you said, with a bronzeish, pale green, and the guy is always inventing new flavors. I once had a caipirinha ice cream!"  Friend of the blog David comments "we can second the recommendation of Vero, in Ipanema, based on our visit last July.  A small shop with wonderful flavors, both the usual (every gelato place in Brazil has coconut, but this was exceptionally good) and the seasonally specific (like fruits that I can only guess by looking them up in the Portuguese Wikipedia and then hoping that there will be a corresponding English article to at least tell me the general family of plant)."
Sao Paulo Has a branch of Venchi: Eataly São Paulo – Avenid… 35030 São Paulo
Belgium:
The chain Amorino has a branch in Belgium, Address: Zetellaan 100, 3630, Maasmechelen
Canada:
Montreal:

Fous Desserts.  Ex Urbe writes: An excellent, all natural gelateria nestled in a bakery, with ambitious flavors and extraordinary sorbets.  Bay laurel and plum was one of the most outstanding."  Jo Walton comments: "…the excellent gelato place we found near Laurier metro with the bay, rhubarb, salted caramel, and litchi and rose…"

Ottawa:

Piccolo Grande.  Aliza comments: "I was a long-time fan of Piccolo Grande, in the Byward Market. Their gelato compared well to the best of what I enjoyed in Italy."
Stella Luna.  Aliza: "In Old Ottawa South (on Bank Street) – even better than Piccolo Grande. Delicious fresh-tasting strong pure flavours, great texture. Stella Luna also has good coffee and sandwiches."

Vancouver:

Bella Gelateria.  Ex Urbe writes: Alas, I have not been in person, but I was at the Florence international gelato competition the year Bella Gelateria took the grand prize for their roasted pecan flavor, and it was indeed stunning.  Everyone I have talked to who has ever visited agrees it is a brilliant and world class gelato place.
Dolce Amore.  RTM comments: "It's on Commercial Drive (the old Italian, working-class sector of the city), and although new, it's quite good!"
China:
Mike's comment suggests that good gelato is rare in China, and that Hong Kong is the best place to look.
Beijing, Shanghai, Chengdu, and Hong Kong (five locations), Guandong (two locations), Shangdong, Tian Jin, and Yuen Long have branches of the international chain Venchi. Jo checked out the Venchi in Hong Kong in March 2019 and it was excellent, better than Venchi in Italy because it has no competition.
Czech Republic
Prague has a branch of the chain Amorino.
Egypt:
Finland
Turku: Cafe Harmonia on Brahegatan, a block or two up from the river. Marissa Lingen says "The apricot would make you weep. Other flavors looked promising also but I am a small eater and we were there limited time. This place also has lovely salads and pita and cakes and a place for children to play."
Vaasa: Pizzeria Marco Polo. Marissa Lingen says: "As we were there in May, what we had was strawberry and blueberry, utterly fresh. The strawberry was lovely, but the blueberry was beyond excellent, that little gritty peel feel and flavor, the complete opposite of artificial blueberry. Pizzas also really fabulous."
France and Overseas French Territories:
Paris: Pozzetto, at 39 Rue du Roi de Sicile. Reader Amanda B says "It is, to my taste, the very best gelato in Paris, and it produces objectively high quality gelato. It meets all the right criteria – the short list of flavors every day always includes a dull greenish brown pistacchio, and a truly heavenly, must-take-a-moment-to-savor-with-closed-eyes fior di latte. Everything is the right color, which you find out only when they open the metal lids to give you a taste or scoop out your choices. The texture is perfect. They have a walk-up window to sell to passers-by on the sidewalk, and an interior salon. Blessedly, they are open late."
France has the chain GROM.
The chain Amorino has several branches in France, and in overseas French territories as well. (Jo says: I can especially recommend the one in Nimes.)
Germany:
The chain Amorino has several branches in Germany: Hamburg, Soltau, Hannover, Berlin, Wertham, Heidelberg and Munich.
The chain Venchi has a branch in Munich.
Greece:
Athens: Le Greche.  If your travels ever bring you to Greece, do try out the gelato at Le Greche, in Athens. Possibly the best gelateria here. If memory serves me well, they should pass all of your tests! Do check out also their FB page.
Nafplio: Antica Gelateria di Roma, 3 Pharmakopoulou and, Michail Komninou, Nafplio 211 00. Stephen says "It may be the best gelato I've tasted outside of Italy. The owners of the shop themselves are Italian transplants, so they know their stuff. I personally only tried the dark chocolate, but according to friends it seems that you can't go wrong with the other flavors as well."
Italy:
Asti:
Arezzo:

Arezzo is home to the second branch of Vestri (see under Florence).

Bergamo:
Bologna:

Bologna is a brilliant food hub, known for its pasta and mortadella, but also for gelato, so filled with amazing gelato places.
Cremeria Cavour: Ex Urbe writes: Located just one block up from the Basilica of St. Dominic, this is one of the truly great gelato stops on Earth.  Fresh, intense fruits, soft creamy milk flavors, amazing sophisticated flavors like toasted pine nut, flavors with delicious chocolate or hazelnut drizzles (a common practice but they balance it unusually well), or flavors based around ricotta or marscapone. Their fresh fruit granita is also stunning. It is somewhat hidden under a portico across from a little park in the middle of the street, so look carefully.
Bologna is also home to the famous Carpigiani Gelato University, gelato-making school.
Cremeria Funivia: Ex Urbe writes: another excellent gelato stop.
Has a branch of  the excellent chain Venchi.

Casale Monferrato has a gelateria recommended by reader Phil Koop, Inferno Freddo (great name!) Piazza Mazzini 10 15033 Casale Monferrato
 Ferrara:
Florence:
Matera I Vizi degli Angeli, 36, Via Domenico Ridola – 

75100

 

Matera, recommended by reader Andrea, who says "phenomenal lavender gelato and also excel at seasonal sorbeti like percoco, a summer-time deliciously fragrant and tasty peach sorbeto. Panna and double panna are both available, and like there gelato it is kept fresh in the metal bins. We liked this place so much we came back, requiring a 2 hour drive from where we're staying!"

 Milan:
Naples: has a branch of the chain Venchi in the airport.
Racconigi has Gelateria Dolomiti recommended by reader Phil Koop, at 5, Via Francesco Morosini – 

12035

 

Racconigi, right by the palace.

 Rome:

Carapina has two branches in Florence and one in Rome.  Ex Urbe writes: This is another excellent example of the wave of new all-natural organic high end gelato places specializing in fruit in season and top notch ingredients. Highly recommended both for their fruit and cream flavors, everything from kiwi and grapefruit to toasted pine nut.
Caruso.  Alberto comments: "And in Rome I've discovered by accident a phenomenal one, I Caruso, that later was considered the best in town, see this article."
Come il Latte.  Via Spaventa 26, 00187.   Very highly reviewed and often discussed.
Delmonte i Borgo Pio 131. Gregory Sokoloff writes "Massimiliano Del Monte founded it by inveigling a well-known but retired maestro of the craft to give him his recipes and thus resurrect in spirit one of Rome's more beloved gelateria (whose exact identity, alas, remains a secret). At least that's the rather florid story I translated for him on his website. I can attest from arduous personal consumption that the product is indeed heavenly, and gets high praise from visitors. Most importantly, I have a picture of myself behind the counter scooping as if I were the very proprietor himself."
Della Palma.  Ex Urbe says: A stunning spectacle of gelato with 150 flavors in huge decorative piles and amazing varieties like profiterole, Mars bar and chocolate caramel almond fig.  I usually go to Della Palma to look rather than eat, since my tastes tend toward the simple sorbets and not the elaborate concoctions which are its specialty, but it's worth visiting just to see, especially since it's conveniently located between San Crispino and Giolitti.  It is also a candy store, notable for selling lollipops with a picture of the pope on them, great as gag gifts.  Offers gluten free flavors & cones.
Del Teatro Via dei Coronari, 65/66, 00186 Roma. Carolyn says "very close to Piazza Navona. It's one of the all-natural places with superb iterations of the typical flavors that go SUPER SUPER WELL with things like white chocolate basil, pumpkin, rose-raspberry, ricotta and walnut, and lemon sage. Quality and creativity were just mind-bogglingly high."
Don Nino, on the Via dei Pastini just east of the Pantheon. Phil Koop says: "Despite the hokey name, this place is entirely acceptable, pretty much what I think of as a standard, high-quality, small Italian gelateria. I did not actually try any of the ices, but the nocciola was very intense,  with the slightly gritty texture that indicates ground hazelnuts mixed in. It was an especially marked contrast to the frankly inferior stuff served to me by Venchi the day before. Don't get me wrong, it's no Giolitti, and if I had time on my hands I would aim for one of the more exalted establishments. But if you are just ducking into the Pantheon and want a quick gelato without braving the queue at Giolitti, it's just the ticket."
Giolitti.  Ex Urbe says: the most fun and famous gelato place in Rome, a huge classic pastry shop with a dizzying array of flavors.  Giolitti is not 100% organic, so some of their flavors are inferior to what all-natural places produce, but most of them are still brilliant, and the presentation and atmosphere make it truly special.  A medium cone (3 flavors) is dipped in dark chocolate (which keeps the cone from getting soggy as you eat) and they always offer excellent quality whipped cream on top.  If you ask for "panna dentro" (cream inside) they will stuff the cone with whipped cream before putting the gelato on, leaving you with a cream-stuffed chocolate pastry as the finale to your gelato experience.  Recommended flavors: visciola (super tart sour cherry), blueberry, raspberry, white chocolate, champagne (sorbet, genuinely alcoholic), grapefruit, lemon, caramel (delicate), caramelized fig, and when in season apricot and watermelon (delicious! plus they put in chocolate chips to be the seeds).  Beware their mint unless you like it strong because it is as powerful as an Altoid, and their dark chocolate is very cake-like.  They also produce excellent granita in summer, especially their frutti di bosco.  I recommend requesting a granita that is half lemon and half frutti di bosco.
Palazzo del Fredo Giovanni Fassi.  Patrick comments: "When I lived in Roma, I had 2 favorite gelato places, primarily because I was a poor young adult that couldn't afford the top-notch places. One was…  "Giovanni Fassi" in the Esquilino neighborhood (right down the street from my apartment.) Given the number of natives in both places, they seemed pretty good."
Panna & Co, Marmorata 115 Testaccio, near the Aventine. Ada spotted this place at 15 feet, and it was great — lots of flavors, all delicious, and the standout was lemon basil. Highly recommended if you're in that part of Rome.
Old Bridge.  Patrick: "2 favorite (affordable) gelato places… one was  "Old Bridge" right off of Piazza Risorgamento"
San Crispino.  Ex Urbe says: Extremely top quality, specializing in delicate complex flavors like basil liqeur crema, and rare sorbets like plum or mandarin.  Not my favorite stop for basic flavors, but excellent for unusual ones.  A big signature is their selection of semifreddos, which are not gelatos at all but a fluffy, mousse-like chilled dessert which they mix with tiny shards of merengue to give an amazing contrast of wet and dry at once.  Branch in Rome airport, as well as one just north of the Pantheon, and another near the Trevi Fountain.
Rome has GROM, several branches of Venchi, including in the airport and at Termini station, and Rivareno both in the city and in Lido di Ostia.
Ex Urbe Notes: ROME: THE GELATO CORRIDOR.  Giolitti, San Crispino, Della Palma (with Venchi chocolate), and a GROM are all located within 2 blocks of each other in the district directly north of the Pantheon, so you can make an afternoon of going and trying them all, or make the area your hub and come again and again.

Siena:

Bar Cavallino Bianco, Piazza Dante 12, 53043 Chiusi, Siena.  Yvonne comments: "The bar opposite the train station in Chiusi (SI) has the most astounding nut gelati: pure Hazel nut or Almond but also the 'Lars Porsenna' (named after the first Etruscan king of Roma). Unrivalled for the quality of ingredients. Drop in there whilst changing trains from Siena to Rome."
La Vecchia Latteria, Via S. Pietro 10, Siena. Reader Jeff Rose says "the best of all".
Siena also has a branch of GROM.

Torino: has an excellent branch of La Romana near the Porta Susa train station, and
Trieste: Gelateria da Zampolli.  gelato comments: "When in Trieste, go to Zampolli."  Trieste also has GROM.
Venice: has a branch of Venchi, and also of GROM.  See also Kerrin Rousset's guide to good gelato in Venice.
Verona

has a branch of Venchi
Gelataria Savoia, Via Roma 1/b Recommended by reader Jeff Rose.

Vicenza:  has a branch of Venchi
Vieste Reader Jeff Harvey recommends Gelateria Artigianale Sotto Zero, at Piazza John Kennedy 9. He says "Seriously good gelato of a quality comparable to good places in Rome or Florence."
You can also find branches of GROM in: Alessandria, Aosta, Bergamo, Chieri, Chioggia, Cremona, Cuneo, Ferrara, Genova, Lecco, Lucca, Mantova, Mestre, Modena, Novara, Parma, Perugia, Sanremo, Trento, Treviso, Udine, Vercelli, and Viareggio.
You can also find branches of Rivareno in Brescia, Bordighera (IM), Chieri (TO), Pavia, and Pescara.
Japan:
Jordan:
Korea
Perche No! Exciting news, Perche No! one of the best gelaterias in the world now has a branch in Seoul, with more branches coming across Asia. Chocolate and pistachios sent from Italy, and the workers are trained by Ciro of the Florence original. The address is Gangnam, inside Newcore Outlet, Seoul.
The chain Amorino has branches in Seoul, Yongin, Daegu and Busan.
Kuwait:
Lebanon:
Luxembourg:
The chain Amorino has a branch in Luxembourg.
Malta:
Malta has a branch of Rivareno.  Lucky Malta!
Malta also has a branch of Amorino.  It's good to be Malta!
Morocco:
The chain Amorino has a branch in Morocco.
New Zealand
Auckland: Giapo. 279 Queen St, near Wellesley St.. Reader Thomas Lumley says: "Gianpaolo Grazioli makes expensive, baroquely overdecorated gelato that is so worth it. Also has sorbet and ice cream."
Oman:
Poland:
Krakow: Pracownia Cukiernicza Stanisław Sarga, ul. Starowiślna 83, 31-052 Kraków.  Paulina comments: "They have no website unfortunately.  The forest berry flavor is amazing, but any option you choose is worth of trying and they are served from containers covered by metal leads, isn't it a proof of quality in most cases? :D"
Portugal:
The chain Amorino has two branches in Lisbon and one in Porto.
Qatar:
Russia:
Moscow has a branch of the chain Venchi.
Saudi Arabia:
The chain Frost Gelato has a branch in Saudi Arabia.
Jeddah (Saudi Arabia) also has a branch of the chain Venchi.
The website map for the chain Amorino suggests it might also have a Saudi Arabian branch but the map is a bit hard to interpret.
Singapore:
Singapore has a branch of the chain Venchi.
Spain:
The chain Amorino has several branches in Spain: Bilbao, Madrid, Malaga, Ibiza, Alicante, Granada, Seville, Zaragoza, Mallorca.
UAE:
The chain Frost Gelato has a branch in the United Arab Emirates.
UK:
Crickhowell Pavlova Coffee and Gelato, 17 High Street Crickhowell, Powys, has gelato made from fresh ingredients on a local farm. Jo writes: Some of the flavours were weird, but the pure fruit sorbets were excellent (especially the blackberry) and the mandarin cheesecake flavour was fun. Only gelato worth having in Wales as far as I know. A delightful find.
Leeds has a branch of the chain Amorino.
 London:

La Gelateria.  Beth comments: "London is a bit of an ice cream desert (anywhere someone offers you "an ice cream" and can be expected to mean (a) soft serve or (b) a popsicle needs help). But gelato has started to become more popular in the last couple of years. I commend La Gelateria to you."  Ex Urbe writes: Organic, made from scratch, a great gelato place conveniently in the heart of the Theatre district, and particularly good at making strange and oddball flavors be genuinely delicious.  Everything was good, and they did a great job with flavors I would never have expected to be successful, like porcini mushroom, or sesame, or spicy basil sorbet.  And just around the corner on the same block is a branch of Amorino, also excellent.  When I'm nearby I always hit both.
Food For Thought (Covent Garden) Bob writes: "particularly the strawberry / banana / cream / oat pudding"

St Andrews Jannettas 31 South St. Jo writes: Four generations of a family originally from Italy and still making gelato in Scotland. A lot of the flavours were good, but the pure fruit sorbets were lacking something.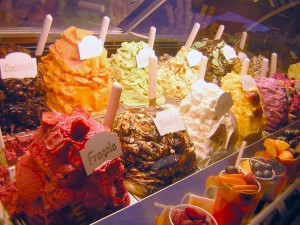 USA:
Arizona:

Phoenix (Gilbert), Tuscon: Frost Gelato.  Rowena WOELFLE comments: "Best gelato in the USA is at Frost a gelato shoppe in Gilbert Az."  Ann Mulhern comments: "Frost Gelato, Tucson, Phoenix, and soon to open in Albuquerque. Truly amazing quality and the original cook-Nazario has created flavor unparalled. Salted Caramel and Pistachio are exquisite. I have never had a bad flavor and have probably tried them all.  Perfect consistency-always."

California:
Georgia: There's a branch of Amorino in Atlanta.
Illinois:
Louisiana:

New Orleans: La Divina.   Comment posted on this blog by owner Katrina Turillo: "La Divina makes gelato and sorbetto from scratch in New Orleans, LA. Grass fed milk and seasonal, local ingredients. Signature flavors include creme brulee, bourbon pecan, chocolate azteca."
Baton Rouge: A new branch of La Divina is scheduled to open soon.

Maine:

New Brunswick and Portland: The Gelato Fiasco.  Meg comments: "Seasonal flavors, proper colors, flat bins, no decorative syrup. I have no idea about the lemon because I was so overwhelmed by the cranberry and allspice flavors that I felt no need to order more."
Portland and Freeport: Gorgeous Gelato.  Marlene comments: "Please check out Gorgeous Gelato in Portland, ME! Your article includes a lot of subtleties I never realized until now, but my own personal "gelato test" has always been NOCCIOLA, and Gorgeous Gelato's is some of the best I've ever had. In fact it's hard for me to try other flavors there, because I love their nocciola so much! Owners are from Milan and I believe their product would meet many, if not all, of your criteria for excellence."

Massachussetts: There's a branch of Amorino in Boston
Michigan:

Ann Arbor: Marissa Lingen comments "Iorio's Gelateria dyes their rose gelato pink, but when I was there did not dye their fruit flavors, which were lovely. A few weirdo flavors for those who like that sort of thing, a bunch of really solid flavors for those who love the basics."

Nevada – There's a branch of Amorino in Las Vegas.
New Hampshire:

Hanover:  Morano Gelato.  Susan comments: "You should try Morano Gelato in Hanover, NH if you find yourself anywhere near Dartmouth College. Forbes Magazine wrote it up as the best gelato in the country. The founder spent 6 years making gelato in Florence. I'll try some of the other places in these comments, but Morano Gelato passes all of the tests in this article with flying colors and then some!"

New Mexico:

Albuquerque:  Frost Gelato (Chain); for comments see under chains or A.
Santa Fe: Ecco Espresso Gelato. Matt comments: "There is a great place in Santa Fe, New Mexico called Ecco Gelato. They pass almost all the tests (nocciolla is sometimes seen, but they always have chocolate hazelnut). They use local milk, and no premixes as I know it. On par with good Italian Gelaterias."

New York:

New York City:Ex Urbe says: Dolce Gelateria is a unique and brilliant place, fully as good as very good gelato I have had in Italy at Rivareno or the international gelato festival.  They have a stunning olive oil flavor.  Also a funny thing popular in germany where they extrude the gelato so it looks like noodles. Located in the West Village in south Manhattan, 33 Barrow St. near the Christopher St. stop on the 1 line.  (The whole neighborhood is great too, with excellent ramen and Czech restaurants, and a branch of a stunning cheese and salumi shop called Murray's with fresh pasta, homemade burrata and more.) Temporarily closed for relocation: June 2016 [Website dead as of Dec 2017…]
New York City: Ex Urbe says: Chikalicious dessert bar does amazing sorbets, and its cupcake annex often has gelato.
New York City: Now has the only external outpost of the Florentine gelateria Vivoli, near Harold Square.
New York City: the Eatily Italian food nexus (near the Flatiron) has reasonable gelato (supplied by Venchi, Chain).
New York City: has Gelato ti Amo (Chain), recommended by a friend.
New York City: has Amorino (Chain).

Ohio:

Cincinnati: Madisono's.  Karyn comments: "I have recently moved away from a favorite gelato maker of mine, Madisano's in Cincinnati."

Oregon:

Portland: Alotto Gelato.  Kyle comments: "they started at a farmer's market, use local produce and come closest to the magic that emptied my pockets in Spain."

Minnesota:
Pennsylvania:

Philadelphia: Capogiro.  Tara comments: "Capogiro in Philadelphia is my go-to place for gelato. Fantastic quality and unusual flavors. They use seasonal and local ingredients.The flavors change frequently, though there are some constants, like bitter chocolate and stracciatella. You can even get it shipped though I haven't tried that. There's three locations in Philadelphia if I recall correctly. Most of my trips to Philly usually end up with me popping by Capogiro."

Texas

The Turtle Gelateria 514 Center Ave, Brownwood, TX. (reccommended by owner, not yet tried by us.)
Houston Sweep Cup Gelato, 3939 Montrose Blvd, Suite L, Houston TX. Tim Cooper writes "beet with honey was a revelation". 200 flavours "with a Texas twist."

Utah:

Salt Lake City: Dolcetti Gelato. Eric C. comments: "Excellent, all natural, in-season fruit kind of place. I believe the family at Dolcetti apprenticed in Italy for a time."

Virginia:

Alexandria: Killer E.S.P.  Anne Marie writes: "I like Killer E.S.P. (Espresso Sorbetto & Pie) in Old Town Alexandria just outside of DC. They switch up their flavors a lot and I always find something I love. I always get psyched when I see they have some pear or melon in the case."

Washington DC:

Espresso and Gelato Bar located by the Cascade Café in the corridor connecting the two wings of the National Gallery of Art (Smithsonian).  Ex Urbe says: Implausible as it is to find in a museum cafe, this is real gelato and the fruit sorbet flavors, particularly apple and strawberry, are of extraordinary quality.  Lila comments: "For people using this thread as a reference: as both Ex Urbe and I have found from experience, the best gelato in D.C. is, weirdly enough, in the cafe in the basement between the two wings of the National Gallery of Art, the one right next to the interior waterfall. Try the apple."
Pitango.  Two locations in DC and the subject of a lot of debate among site users.  Bong comments: "Pitango in DC is great, though incredibly expensive. I think their smallest size will cost you in excess of $5. Also, their crema flavor refers to espresso crema, and it is delightful."  Hailey comments: "Pitango in the DC metro area is the best! They pass the presentation test (stored under round metal lids, not piled up) and offer Crema (I would assume this is the equivalant of fior di panna) and Nocciola, as well as a variety of seasonal flavors. The gelato is creamy and soft just as it should be. It is definitely the closest you can get to the gelato in Italy, and hands-down the best gelato in D.C."  Lila comments: "I've had Pitango when in D.C. and it fascinates me, because it passes all the tests which should indicate good gelato, and yet it isn't. I don't know what they're doing wrong. The colors are right, the storage is right, but it's as though someone took a knob marked 'flavor' and turned it way, way down. It's the correct flavors, just not enough of them. And yet, how do you get the right flavors in that mild a way without adding ingredients which ought to produce a different flavor? Extremely confusing experience. As is generally the case with mediocre gelato, the chocolate and coffee flavors are perfectly acceptable. The best gelato in D.C. is… in the National Gallery of Art." Chuck Savage comments: "Pitango has it all but he flavors are weak at best."  David comments: "In Washington DC where I live, there is one outstanding gelateria; Pitango Gelato, with two locations in town. they use all organic ingredient no flavoring or chemicals, and all their fruit sorbeti are made with fresh fruits. I think they are by far the best gelato in town, Yet, I find myself arguing with my friends that tell me that because pitango "hide" their gelato in covered bins, they would prefer to go to one of the places where they can "see what they eat". Your article gave me the right explanation. Thanks!"
Dolcezza.  In Georgetown.  Bong comments: "Dolcezza is another place worth trying"

Washington State:

Seattle:

Bottega Italiana.  Ex Urbe says: This was a good gelato place conveniently close to the wonderful Pike Place market.  They did everything right in terms of ingredients and lack of preservatives.  Of the six flavors I tried there four were wonderful, one merely average, and one disappointing, so definitely worth-it on average, and extraordinary by US gelato standards.
Cupcake Royale. Ex Urbe says: I stumbled by this place en route to Gelatiamo, and even though it is mainly a cupcake place I was impressed by their skill in balancing ambitious flavors.  The "burnt caramel" flavor genuinely tasted like that super dark, savory edge caramel gets when you let it burn, and their rhubarb strawberry ginger sorbet was also strong. Anywhere that does well at such a range, herbed sorbet and complex cream, I trust with the rest too.
Gelatiamo.  Beer & Skittles comments: "Check out Gelatiamo in Seattle. It's some of the best gelato outside of Italy that I've had!" Christine comments: "I agree…Gelatiamo in Seattle is divine! Owner is from Italy and learned from the best!"  Ex Urbe writes: I visited Gelatiamo eagerly based on these recommendations and they're 100% right.  This is truly excellent, Italian-quality gelato, with smooth, rich creamy texture and powerful, well-balanced flavors.
Want to add something to the link?  Please leave a comment on the Gelato Thread.