Teaming up with my good friend and fellow author & history-lover Jo Walton (more on her below), we talk with fellow writers, historians, researchers, editors, & other friends about the craft of writing, history, food, gelato, and other topics, with some episodes of just me and Jo having the kinds of intense writing or history discussions we enjoy.
You can listen for free on Libsyn, on Apple Podcasts, on Spotify, and on YouTube.
Those who support me on Patreon get new episodes in advance. 
Sample Episode: Speculative Resistance with Malka Older
The episodes in this first season are long (an hour plus) since our interviewees are all so interesting and we have so much to say! Episodes will come out monthly, with occasional bonus episodes, those are the ones with just me and Jo.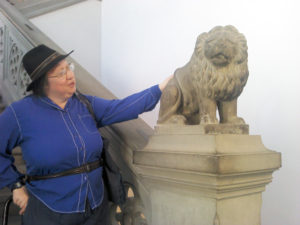 Jo Walton is a voracious reader in a huge number of genres with an encyclopedic knowledge of the history of genre literature, as well as the award-winning author of more than a dozen novels including Among Others and Tooth and Claw, and an F&SF critic, author of What Makes This Book So Great and An Informal History of the Hugos. Jo and I travel a lot together when I go to Europe for research, and we've had such wonderful conversations over the years connecting dots between our shared interests in history and the writer's craft that we wanted to share such discussions for more people to enjoy.
Interviewees in the first few episodes (to give a sense of the range) include:
We hope you enjoy!