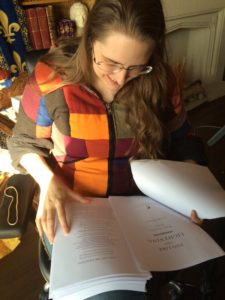 On 11th January 2018, Ada did an "Ask Me Anything" on Reddit. I'm preserving the most interesting parts of it here. In this post, questions about reading and writing.
quite_vague: It's amazing to me that Terra Ignota is your fiction debut; it's so ambitious and accomplishes so much.
How did you manage to write Terra Ignota as your first published work? What other writing have you done along the way? Do you have any thoughts or observations on a debut that's managed to be ambitious, unusual, and popular as well?
Ada: First, yes, it's unusually polished and ambitious for a first novel. One fact that helps is that it isn't the first series I planned or the first novel draft that I finished. In fact this was the fourth series I planned, and I'd already written complete drafts of three earlier novels, each the first of a different series. So, unlike people whose first published novel was their first full novel-length project, I'd already had the experience several times of planning a world, creating an outline, following it from beginning to end, giving it to beta readers, polishing it up etc. That experience helped a ton, and is definitely a big part of why these books came out so well. I may someday go back and (now that I'm a better writer) write better versions of those story worlds; something for my long to-do list.
This is also why, whenever I talk to an aspiring novelist who has written a first novel and is stuck in the frustrating phase of sending it off and getting rejection letters, I always encourage the person to go write novel #2. I have a big fat folder of rejection letters for my first, second, and third novels/series, many generic, some encouraging which, as I look at them now, I can tell meant that the drafts were already pretty good and that the editors who rejected them saw potential in me, enough for them to send personalized, encouraging rejections instead of form letters. Though I got my share of form letters too. But what I'm infinitely glad of is that I didn't get discouraged with the rejection of the first one, nor did I get obsessed with selling that one project and stuck in a rut polishing it over and over, or getting angry that people wouldn't take it. I always held on to the conviction that the next one would be better, the next one better than that, and that eventually one would be good enough.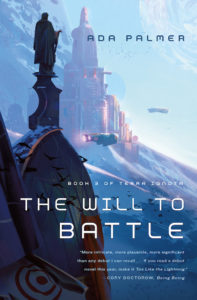 My academic writing also definitely helped. Academic writing often has strict length limits, which require me to communicate complicated ideas in limited words, and forced me to learn the art of concision. The Terra Ignota books are pretty long, so most people wouldn't associate them with concision, but I do think a lot about being concise in every line and paragraph, since the more information you pack into fewer words the more powerful prose becomes. That doesn't mean I don't take plenty of time off for little touches, descriptions, Mycroft tangents etc., but when I do so it's because I've thought hard about the content I'm trying to convey there, and determined that it's valuable, not just for that sentence, but for the mood, the character development, the reader's emotional arc. Whether it's a "she sighed" or a description of the glittering water outside a harbor, I really have read over every line carefully to make sure every word matters. Learning to do that helps so much.
One time in my third year of grad school I had to cut a 16,000 word paper down to an 8,000 word presentation, so I paused my then-current novel project for a while and worked and worked until I got the paper short. And then when I went back to writing the novel draft it's amazing there's this line, what I'd written before I did that and what I wrote after, and suddenly BOOM the prose is better. IT's the only kind of exercise I've ever found that really improves writing quickly. That's why I always recommend the "Half and Half Again" exercise to people: take an old thing you wrote (an academic paper, a chapter, a letter, anything) and make yourself cut it down to half the word count without removing any content. It's agony but it's so good for learning where the slack is in your writing, how you can make it more powerful. After you do it, put it in a drawer for six months, then get it out and make yourself do it again. It can do wonders for your prose. Of course it can go too far, and you don't want to cut all descriptions or all adverbs or something crazy like that, but it teaches you to think through every word, what it achieves, and whether another tighter way of putting it might give you more power.
Other writing: academic articles and books, historical notes for the Hetalia TV series DVD release and the Mythical Detective Loki DVD release (those sure required concision since they have to fit on a screen!), and blogging on ExUrbe.com and Tor.com
Scottynuttz: After Terra Ignota, do you have other science fiction ambitions?
Ada: Yes, first a more fantasy series with Viking Mythology, and then a couple SF things planned for after that. It'll be a few years, because I worldbuild slowly, but they're coming!
Book Recs
Madscientistninja: What other books (fiction and nonfiction) would you suggest for someone who has completely fallen in love with the French Renaissance period because of the way you have portrayed it in Terra Ignota?
Ada: Diderot's Jacques the Fatalist is always my top pick. This won't sound flattering, but it's like Terra Ignota with no plot. It's like Mycroft's narration but with no story, just pure narration. It's gorgeous. I also can't overrecommend Alan Kors' lectures on the 17th and 18th centuries.
Praecipitantur: Given the content of Apollo's Iliad, I have to ask: What are your favorite mecha animes?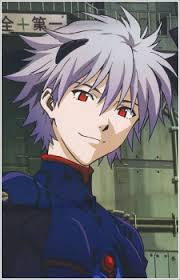 Ada: Gundam is my favorite Mecha, and I have a whole bookcase of Gundam in my anime room. I really love how it comments on war and whether individuals can make a difference in war, and I love comparing the series to each other, looking at how the same archetypes and events are re-framed in parallel narratives in original MS, Zeta, Wing, Seed etc. My single favorite is probably Gundam Seed, which was new as I was finishing writing Too Like the Lightning, so the parallels kept making me extra happy. I also love the moral and theological parts of Evangelion (I have a big collection of figures of Nagisa Kaworu), and I absolutely love the original Gunbuster, not quite a normal Mecha but in the space. And I like Nadeshiko, Escaflowne, Gasaraki, Shingu… I have RahXephon and Gurren Lagann in my to-watch stack but have been sidetracked doing a fresh pass through Double Zeta and am excited to finally watch Turn-A, so those are backburner for a while.
Also does anyone know if the new rerelease of Gundam Wing is a better translation? I want to show it to a friend but only have the horrible dubtitled old US release and am desperately hoping the new deluxe one has a new translation. I phoned Right Stuf but they said they weren't sure.
Also, if there's one other anime that was a big influence it was Reign: Obsession of Alexander. Especially the relationship between Alexander and Olympias for the relationship between J.E.D.D. Mason and Madame.
And Kenshin had a non-negligible influence on my concept for Mycroft Canner, especially the domesticity, and the sudden switching to the old dormant personality.
Chtorr: What were your favourite books as a kid?
Ada: When I was little I read a lot of Brian Jacques novels, a lot of Sherlock Holmes, and Tolkien. Also, through my father's recommendations, Heinlein, Bester, and Asimov. I also had the Derek Jacobi audiobook of Homer's Iliad (Fagles translation) and listened to it over and over.
Injygo: What's the most recent book you've fallen in love with?
Ada: The manga Ooku, by Fumi Yoshinaga. BRILLIANT. Such exquisite storytelling, use of history, characters, art, gender stuff, just so good!