Spot the Saint: The Four Doctors + Saints' Hats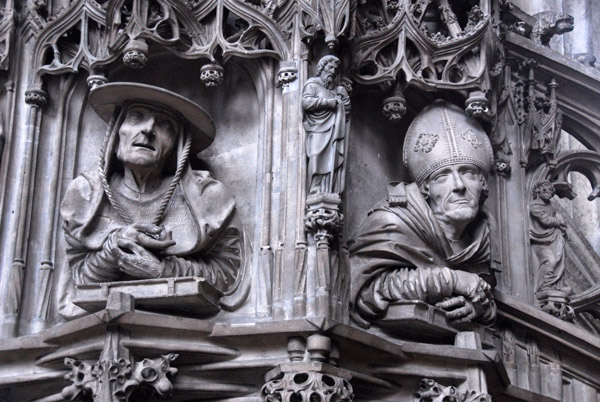 Hello, all.  I must thank you all for your patience during the long lag since my last post, but they were months well spent on  my move to Chicago, settling into a rich new community, plus a lot of  work on my Norse mythology album project which is now, at last, nearly complete.
In addition, my essay-writing time usually directed toward ExUrbe went, over the last few months, toward a new essay now live on Tor.com, which is very like my earlier double review of the Borgia TV series, but takes as its subject the new BBC series The Hollow Crown, a TV adaptation of Shakespeare's Henriad (Richard II, Henry IV parts 1 & 2 and Henry V), comparing it to several other film and stage versions of the same plays.  If you've enjoyed my ExUrbe posts then I highly recommend the new essay, since it really in the ExUrbe spirit.  (Some may also enjoy my earlier Tor.com post recapping a panel I was on at Worldcon about which comics of the last 15 years will be remembered in 50).
Meanwhile, since I'm not yet prepared for the next installment of my skepticism series, here's a fresh Spot the Saint:
First, a Review of Saints' Hats:
Hats are often one of the best clues for narrowing down who any given saint might be, so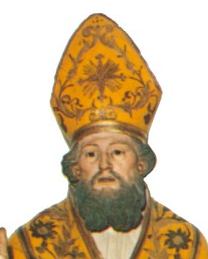 anyone who wants to become a Spot the Saint expert needs to get good at differentiating between different categories of hats. Some are easy to confuse with each other, but the critical basics are these:
Bishop Hat (mitre) vs. Pope Hat (tiara):
These can be easy to mix up because they're both tall and pointy, but if you look closely the fundamental structures are different.
A bishop hat, properly called a "Mitre" is fundamentally diamond-shaped, usually with two subtle corners on the sides a little below half way up.  When seen from the front, it is often decorated with a cross and/or a pair of symmetrically placed gems.  In art, the distinctive decoration with an up-side-down T or partial cross is often an essential distinguishing feature since no other hat, even similar-looking pope hats, will have it: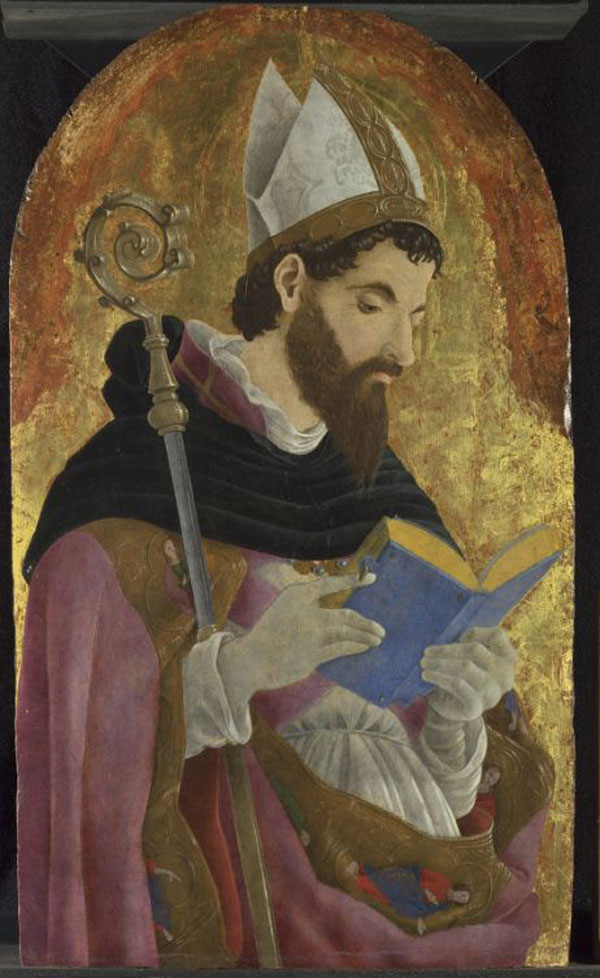 The two images above are simply identified as "a bishop saint" since the hat and crosier let us spot a bishop but they have no other details so we can't know more.
When seen from the side, the structure of a bishop hat becomes clearer: two flat semi-triangular pieces of fabric connected together at the top by a flap that goes across above the head.  There are two flaps hanging down in the back, but the centerpiece is that it is not a cone but a flat structure:


In contrast, the pope hat, or "papal tiara" also called the "triple tiara" is a cone or beehive shape rather than a flat triangular structure.  Whether viewed from the front or from the side the round shape remains identical.  It is decorated with three crowns set above each other.  If a bishop's mitre is a soft hat made of fabric which becomes flat when in storage, a papal tiara is 100% stiff, often made of metal, and the same shape whether or not there is a head inside:
It is important to remember that a pope is also bishop of Rome so entitled to wear a bishop's mitre in addition to wearing the papal tiara, and in real life it's pretty common for live popes to wear a mitre since it's much less heavy and much more practical, being made of fabric rather than metal as the tiara usually is.  But in art, popes will usually have pope hats.
In the case below, you can see two decorated mitres on the outside and two papal tiaras on the inside (all from behind):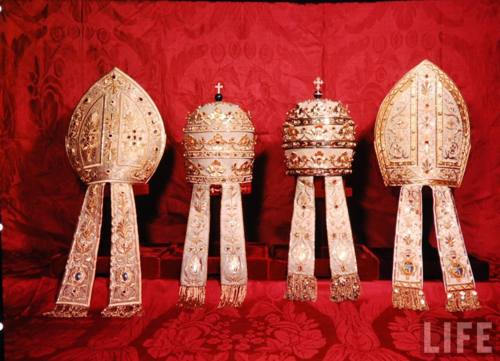 Any saint who was a pope is entitled to wear a papal tiara in art, and usually they will.  The fun exception here is St. Peter who is usually differentiated just by holding the keys and being dressed like an apostle, but sometimes they will depict him with a pope hat just to be trixy.  (In the image below the old bronze statue of Peter in the Vatican has been given a pope hat for a holiday):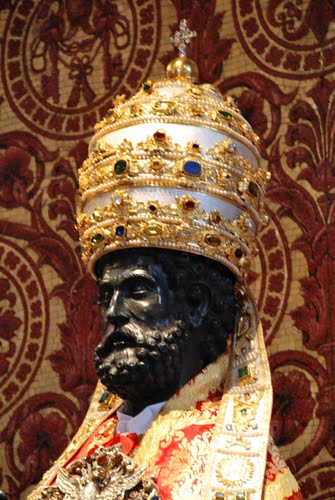 Cardinals' Hats vs. Cosmus and Damian:
Also essential is identifying a cardinal's hat.  In daily life a live-on-the-street cardinal may wear any of several different designs of hat, and will usually opt for one of the smaller hats: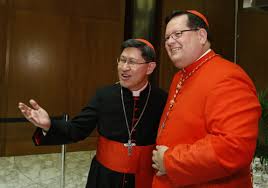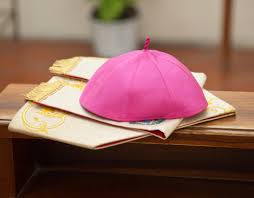 But symbolically, and reliably in art, a cardinal's hat is a very large wide-brimmed bright red hat: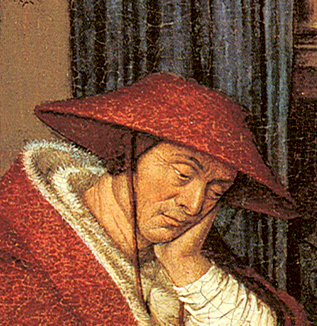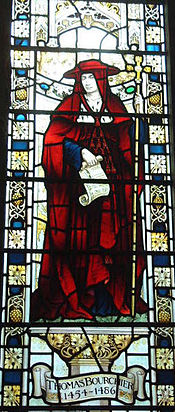 This wide hat, with dangling tassels, is in fact a red version of the technical formal priest's hat which also exists in black for ordinary priests and in green for bishops. Tassels hanging from it differentiate rank.  This type of hat is pretty-much never worn, and those that exist in physical reality are pretty-much all in museums as the historic property of the famous cardinal so-and-so, but the hats serve a major purpose in heraldry, since when one becomes a priest, bishop or cardinal one is entitled (indeed expected) to add the hat above one's coat of arms to distinguish rank, just as a king or duke adds a crown and a pope adds the papal tiara and crossed keys.
Here is a real life museum piece cardinal's hat: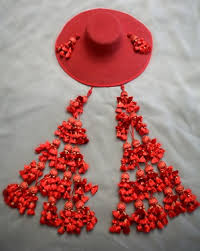 A cardinal's hat and robes: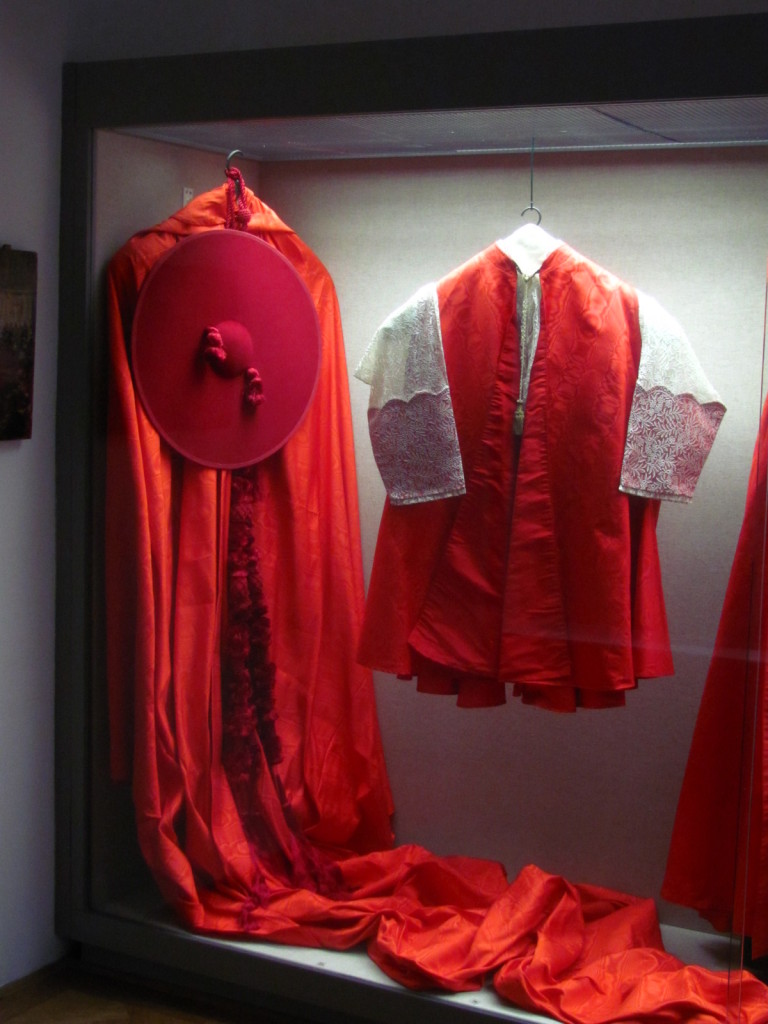 Here is a real life coat of arms of someone who is very excited to be a cardinal, and advertising that he has been "given the cardinal's hat" which is a traditional way of referring to the promotion: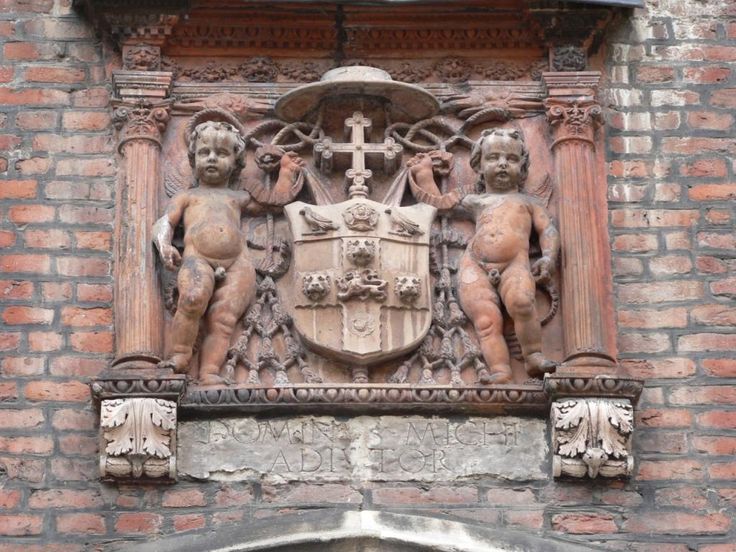 Here are the technical heraldic formula for arms of clerics different ranks, showing different numbers of tassels.
Note also how, rather than just red, the hat and tassels are sometimes a pinkish color: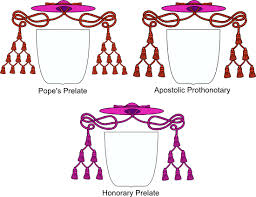 Here are some examples of the arms of priests who are not cardinals.  One does occasionally see the black priest's hat (though mostly in movies) but I have never in my life found an image of one of the green bishop hats in real life since bishops are generally represented by the mitre, and use the green flat hat only in heraldry: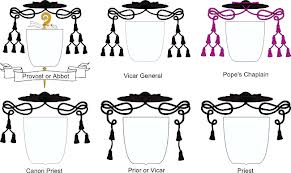 A bishop's arms, with the hat green instead of red, sometimes decorated with silver in illuminated manuscripts: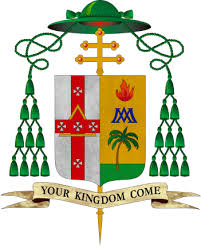 And here are the specific arms of some highly-ranking clerics.  Note the differentiation of cardinals of different ranks.  The arms at the op left are the arms of the Patriarch of Lisbon.  A few places (like Constantinople and Venice) had a special rank called "Patriarch" which is effectively above cardinal, and the quasi-peer of the pope.  A patriarch's arms could have the triple tiara, but could not combine them with the papal keys, which were reserved only for the pope.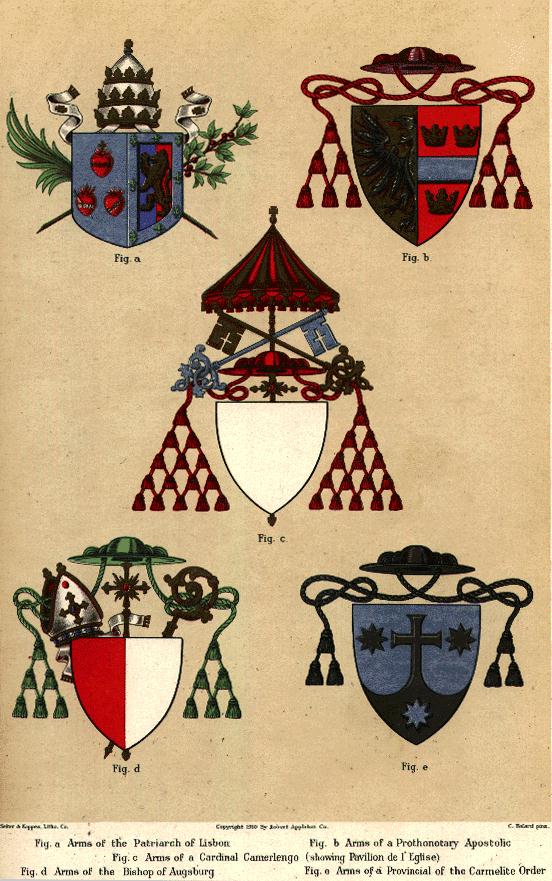 In art, the tassels are generally too complicated to bother depicting, so the key is to look for the big flat red hat with its distinctive crisp brim.  Sometimes it will be on the cardinal's head, but often, especially in the case of Jerome, it will be sitting on the ground nearby, representing that this person is a cardinal but doesn't care about the ostentation of rank: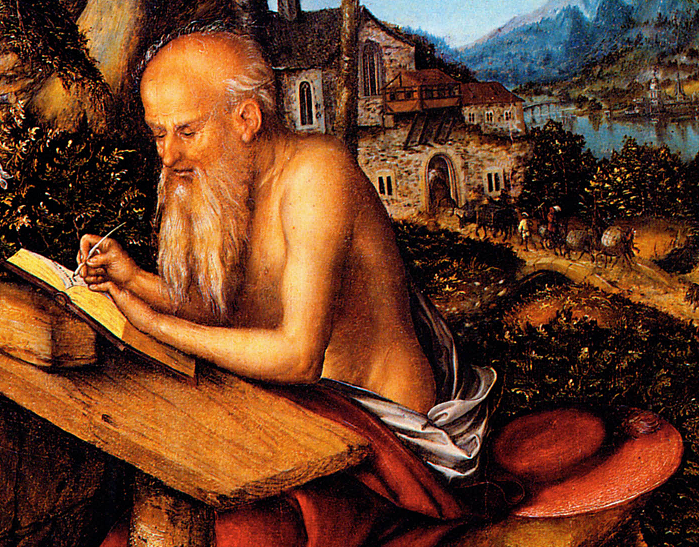 On occasion, the same will be done for popes, as in this image of Gregory: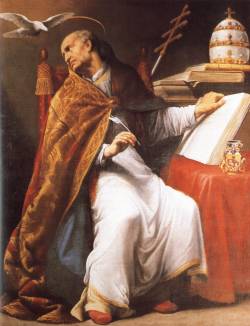 The one point at which cardinals' hats get tricky are when Cosmus & Damian get involved, because they too usually have red hats.  But cardinals' hats always have a crisp, stiff brim, whereas Cosmus & Damian's hats are soft and bag-like: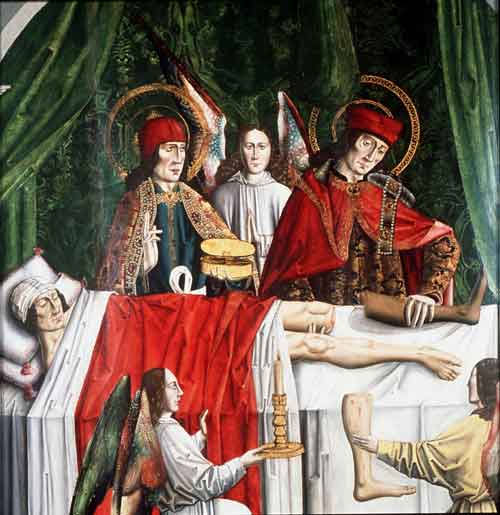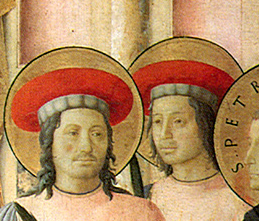 Similarly important is the ability to tell when hats are NOT any church rank hat but are simply a person wearing a random hat because all medieval and Renaissance people (except monks) wore hats pretty-much all the time.  These two hats, for example, differentiate people who were simply merchants or ordinary members of their society and not monks or priests: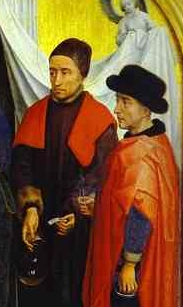 And with this review of hats under your belt, you are prepared to look at an image like this one and understanding who is bestowing what rank on whom: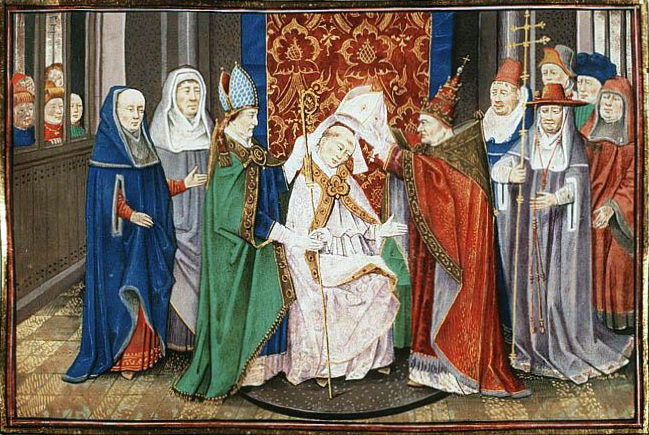 You are also prepared to identify the Four Doctors of the Church.
The Four Doctors of the Church
I already discussed St. Jerome, patron saint of translators, recognizable by his cardinal's hat, his gaunt, hermit-like appearance, his friendly lion, and often a skull, a crucifix, or a rock so he can beat himself when he catches himself wanting to read Cicero. Jerome is also one of the four original "Doctors of the Church" i.e. four early, learned theologians who wrote fundamental works explicating Christian metaphysics and theology, which were adopted as major authorities by the Catholic Church.  Jerome's companions in this set of four are St. Augustine (bishop), St. Ambrose (bishop) and St. Gregory the Great (pope).  Jerome himself was, of course, a cardinal, so the four are easily recognized as a set when you see four saints, two with bishops' hats, one with a papal tiara and one with a cardinal's hat.
Because Renaissance art loved symmetry, the Four Doctors were particularly popular because they could be depicted alongside the Four Evangelists, for example painting four on the four panels of one vault and the other four on the panels of a matching vault.  In the painting at the right, the four doctors, clearly differentiated by their hats, are accompanied by the four companion animals of the evangelists, making the comparison explicit even in the absence of depictions of the evangelists themselves.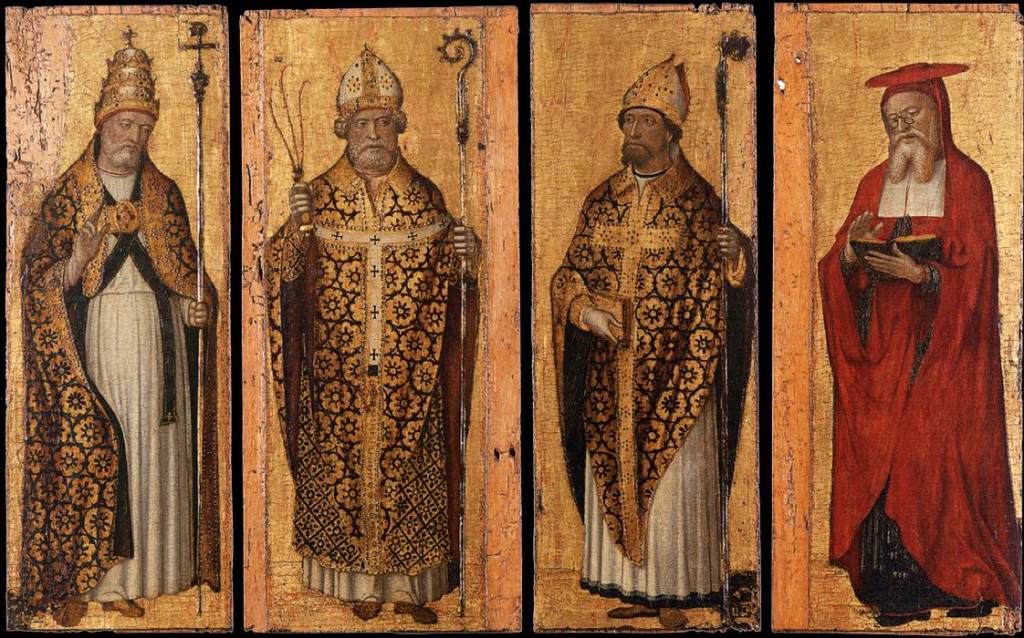 Sometimes, as in the piece above, they make it very easy by all being in full, clear robes, but sometimes Jerome is tricky, leaving his hat behind and being mostly naked (hermit) with just a snatch of red fabric to remind you that he's a cardinal: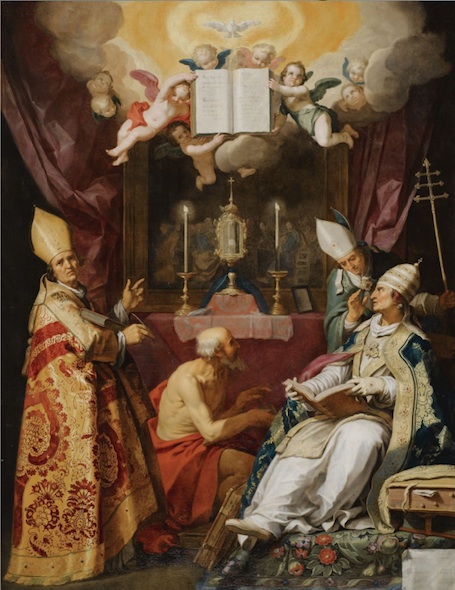 The doctors often have books, and are frequently still writing in them, or pictured debating with each other, or with other theologians, as in this excellent group image where a now-familiar monk saint has gone over to see what Gregory and [Augustine] are doing.  Note here how Jerome is trying to throw us by being in pink instead of red: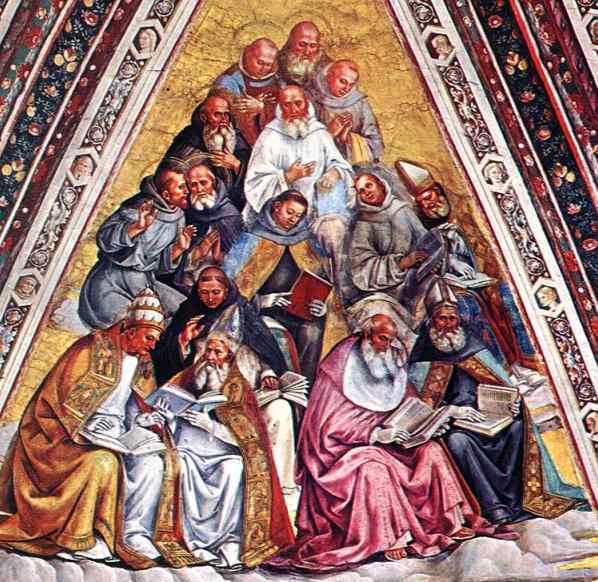 In the image above it's not actualy possible to tell which is Augustine and which is Ambrose among the two bishops, beyond guessing that Thomas Aquinas is probably checking with Augustine since he used Augustine a lot more.  Often the two bishops are impossible to tell apart, since artists are content so long as we realize it's the four doctors, butall four do also have individual attributes that you sometimes see if artists are kind and thorough.
Saint (Pope) Gregory the Great (540-604):
Common attributes: Papal tiara, dove representing the holy spirit
Occasional attributes: beehive, book, pen
Patron saint of: Teachers, musicians, singers, masons, protection against gout

Patron of places: England
Feast day: Sept 3, March 12
Most often depicted: With the other three doctors, writing a book, writing music
Relics: St. Peter's, in Rome
Gregory was a Roman born of Christian parents and was given an excellent education in math and science as well as rhetoric and eloquence.  He became a Benedictine monk, then a deacon working for the pope (like St. Stephen and St. Lorenzo).  He was the first monk to become pope.  He was responsible for the creation of Gregorian chant, and for sending legates to evangelize in England.  In addition to being dressed as a pope (and sometimes wearing a Benedictine white monk's habit under his cloak) he is distinguished by the addition of a white dove representing the holy spirit whispering in his ear inspiring his writing.
Saint Ambrose (340-397)
Common attributes: Bishop robes, hat and crosier
Occasional attributes: Book, beehive, scourge, model church
Patron saint of: Bishops, beekeepers, chandlers, schoolchildren

Patron of places: Milan
Feast day: December 7
Most often depicted: With the other three doctors, writing a book,
Relics: Basilica of Sant'Ambrogio, Milan
While Gregory had Christian parents, Ambrose was a convert, born of a Roman noble family with traditional power in Milan.  He studied the classics and law, and became Governor of Milan during the middle of the controversy over Arianism.  Shortly after his conversion to Christianity, the Archbishop of Milan died and there was a fierce squabble over who should succeed him.  When Ambrose stepped in, as governor, to try to resolve the dispute, his words were so sweet, mild and wise that everyone decided to make Ambrose bishop, even though he had only been Christian a short time.  Ambrose reluctantly accepted.  He helped battle the Arians, and had an important influence on Augustine.  His theological writings were so sweet and eloquent that he was called the "honey-tongued doctor" and is sometimes depicted with a beehive or another representation of honey.  At one point when Gothic raiders kidnapped some of Milan's citizens, he not only used all his own wealth but also melted down the treasures from the church to ransom them, saying that people were the true reasure.  He is sometimes depicted with a scourge, possibly connected with his position battling the Arian heresy.  Usually, though, he is depicted as just a bishop with a book, or with nothing, making him hard to definitively identify outside the context of the other three doctors.
Saint Augustine (354-430)
Common attributes: Bishop, book
Occasional attributes: Pen, flaming/glowing/pierced heart, dark skin, monk's habit
Patron saint of: Brewers (because he drank a lot as a youth), printers, theologians

Patron of places: Bridgeport CT; Cagayan de Oro, Philippines; San Agustin, Isabela
Feast day: August 28 (June 15)
Most often depicted: With other doctors, writing books, debating theology
Relics: Church of San Pietro in Ciel D'Oro, Pavia
Augustine, Bishop of Hippo, wrote a jillion skillion books.  He wrote books and then more books and then more books until he had a big pile of books and then wrote even more books.  We have more surviving works by St. Augustine than the entire classical Latin corpus put together.  In art, he is often depicted still writing yet another book.
We know much more about Augustine's life than most saints because he left an autobiography, the Confessions, which is an enormously important text in the history of philosophy in general, and one I teach regularly.  He was born to a well-educated and ambitious father who paid for him to have an expensive Greek education so he could have a career as a lawyer or sophist. Augustine's poorly-educated mother Monica was a deeply pious new Christian convert, and his accounts of her tell us a lot about the conversion process.  Monica tried to get young Augustine to embrace Christianity, but, thinking of the philosophy and metaphysical detail he had learned from his teachers, he kept demanding that she explain the technical details of Christianity ("Where is Heaven? What's it made of? What is the soul made of? Does it have parts? How does it touch the body? How is God three things and one thing at the same time?" <= imagine all this in an obnoxious, scornful teenaged voice).  When Monica couldn't supply satisfactory answers, Augustine became contemptuous of Christianity as a religion for idiots.  He had a wanton youth, drinking and sleeping around, smashing things with his drunken friends, and flirted with other religions, first Manicheeism, then Neoplatonism.  Patient Monica continued to attempt to get him to convert, enduring ridiculous abuse from him (including one time they were traveling in Italy and he ditched her and jumped a boat for Africa without telling her, stranding her alone).  In more mature years, however, with a full knowledge of Platonic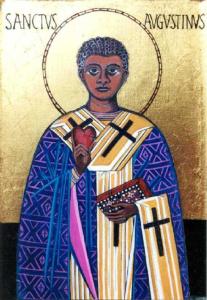 metaphysics under his belt, he looked again at Christianity and suddenly everything clicked, and he could see, using Plato, where Heaven was, what it was made of, how many parts the soul had, etc. and he converted eagerly, and dedicated his remaining years to writing the detailed explanations of metaphysics and theology whose absence had let his thirteen-year-old self to turn his back on Christianity. Augustine remains in essence the most influential architect of Christianity outside scripture itself, especially because of his influence on Luther and other Protestant reformers, who rejected most later Catholic dogma but still largely embraced Augustine's contributions, seeing him as a voice of the early, "pure" Church.
Because it is known that Augustine as born in northern Africa, he is sometimes depicted with dark skin and African features, both in medieval illuminations and in modern icons. While he is often assumed to have been of Greek ancestry, and often depicted as white, his African status has led to him being embraced by some as a role model for Christians of African descent.  Monica too is a saint, often depicted in the habit of an Augustinian nun, while Augustine is sometimes depicted in the habit of an Augustinian monk, though inevitably with the trappings of a bishop (hat etc.) over the top.
In art, Augustine and Ambrose can be very difficult to tell apart, but my rule of thumb is that if only one of them has a book it's Augustine, or if they both have books but one is writing and the other just holding it, Augustine will be the one writing.
Below, a rare image of the four doctors all with clear distinguishing attributes beyond just hats.  
Note how Augustine, in addition to having the flaming heart, is actively working with a book: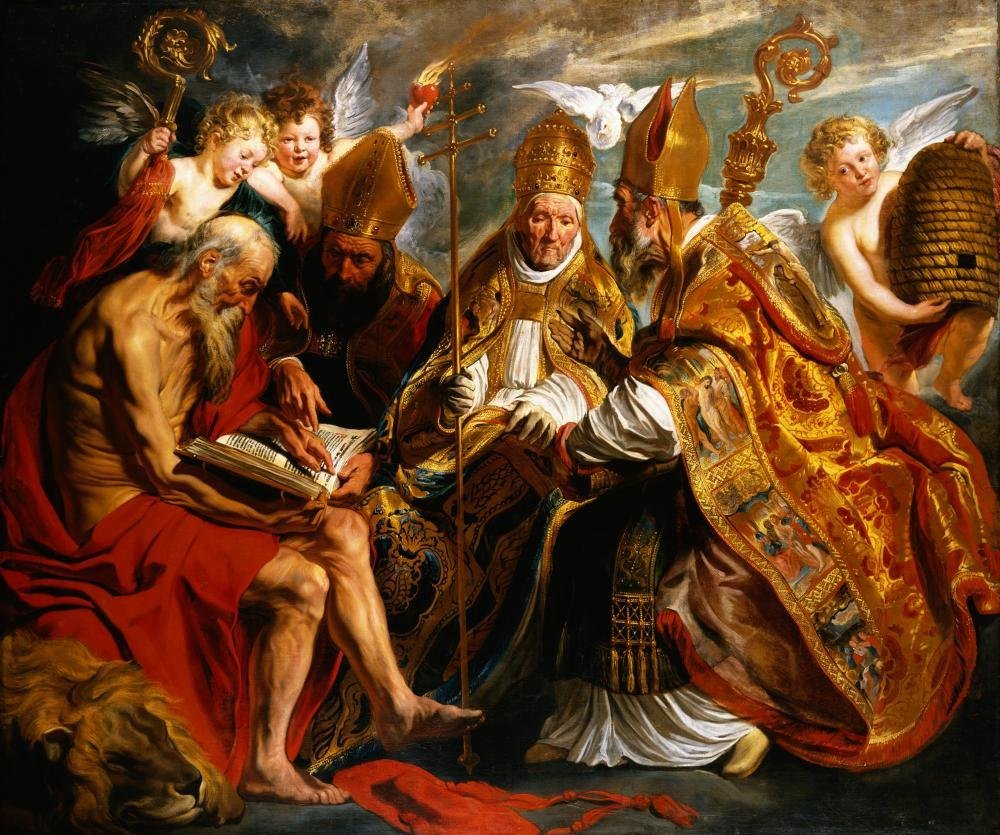 The original four doctors, also called the "Latin Doctors" since they wrote in Latin, were extremely influential in the Middle Ages, and especially in the 1200s when scholasticism was taking off.  Later on many new doctors were added, including scholastics like Thomas Aquinas and Anselm of Canterbury, "Greek doctors" who had been popular with the Eastern Church such as John Chrysostom, Basil the Great and Gregory Nazianzen, and female doctors including the legendary St. Catherine of Alexandria, who was supposed to have confounded pagans in a debate, and the not-legendary St. Catherine of Sienna, the first great female Dominican nun saint and a powerful and articulate theologian.
 And now, for the first time in a long time, it's Spot the Saint Quiz Time!
In this set of six you should get five with certainty.  Hint: this is tricky because it DOESN'T have all four Doctors of the Church. The artist expects you to verify who's who by reading the text, but even without you can tell who they have to be.