Terra Ignota AMA Questions: Craft of Writing & Performer Casting
Hello, friends!  Sharing some more more favorite questions & answers from recent AMAs, including some about the craft of writing, and about the question of what it would be like casting Terra Ignota for film or TV.
Q: Why Don't You Describe the Flying Cars?
So, we get a bit more detail in book 4 for which reason I won't talk here about what I envision because I don't want to disrupt that. But, the lack of detail and description is in fact very intentional. If I say "a flying car" and you envision it, in your head it will always look plausible to you. If I say "a flying car with turbines" suddenly it has to have turbines, and maybe that still feels plausible to you, or maybe it doesn't, maybe your understanding of physics and engines and friction means that the detail 'turbines' breaks plausibility and distracts you and throws you out of the narrative. Maybe I say they're long and streamlined; maybe I say they're short and fat but have deflection fields, whatever I say will work for some people and not for others. Why? Because all readers have different knowledge levels: some of us know almost nothing about the engineering that would be involved, some of us know some things but not others, some know a lot; no matter what I say even if what I say is accurate and totally well-researched it will seem wrong to some people if they don't know the same research I know, someone might know a detail that seems to contradict the other. No matter what I say, it will be a problem for some readers–if I don't say at all no one will be distracted.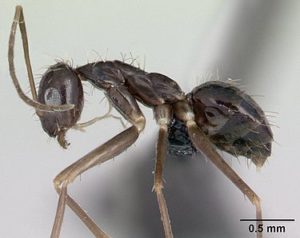 To give a real example, I contacted an awesome ant expert, Sanja Hakala, and discussed with her what ant species would make sense to be the Mars ants, given the locations of the space elevators, and how the resources for Mars were harvested and packaged, and the types of engineering they would need to navigate, and different likely ant migrations over future centuries, and with much debate we settled on Paratrechina longicornis as the most likely and appropriate ant species. Sure enough, the very next beta reader I had (a scientist but not a biologist) commented "Paratrechina longicornis! Really! What a boring choice, couldn't you have bothered to do some real ant research?" A similar thing happened in book 4 with one particular bit of technology (intentionally being vague here) where I was working with 2 experts in that kind of tech and asked them, "So, it might seem they could achieve the goal by doing X, do I need to make clear in the book why they can't do X?" Both experts answered, "No, it's super obvious X wouldn't work, X would fail because ABC, don't bother to bring up X, anyone who knows anything will realize it's obviously not an option." Sure enough, beta reader's response: "I spent the whole book thinking 'why don't they just do X! Obviously X would solve everything!" So I went back in and specified why they couldn't do X.
Another thing which makes this worse is that our science changes over time. If I did the best possible research on what we right now think would be the best shape for a superfast flying thing (based on the Blackbird perhaps?), nonetheless ten years from now we might do other research and discover a new shape is better, and using that shape would come across as wrong and super dated. To give a real example though I forget what story it was, there's an SF story set in the future where an explorer entering a derelict spaceship pulls out her cell phone and turns the screen white so she can see by its light–instantly dates it to the brief phase when phones didn't have flashlights, and feels distracting. If it just said "She shone a light" it wouldn't be distracting at all, it would always feel correct no matter how much tech changes.
In sum, sometimes adding the detail is great, if it's detail that's important, detail you're using for world building, detail that serves the plot, detail that's teaching something about science, detail that's advancing representation, detail that's establishing an aesthetic. There are many types of stories where being detailed about the flying cars would be great. But especially in books 1-4 I didn't need to, and if I don't describe them then they'll always look right to you.
Short version: Shakespeare begins Henry V by asking you to imagine the fields of France, and no matter how expensive the special effects and sets in a movie, the fields of France of your imagination will always look better. Shakespeare knew when to use that, and authors today should too.
Q: How much time do you spend planning?
I do at least 5 years of planning and worldbuilding, then 6 to 12 months outlining a whole series chapter by chapter, then writing the book which takes between 1 year and 3 years depending on how many other things interrupt taking away my time, and then very little time on revision, usually just a couple months for little tweaks, since I plan very carefully so rarely have to go back and change anything, and I have a few beta readers who read things chapter by chapter as they go so I know what is and isn't working as it goes along and fix it as I go rather than at the end. I know a lot of authors who have very different methods, some of whom plunge in with very little plan, but a lot of them do a lot of revision at the end. In my opinion the real difference is simply doing the same tasks in a different order – some writers figure out the structure in advance with an outline and then write a fairly polished thing, others figure out the structure as they go and then go back and make revisions in the revision stage that I would've made in the outlining stage – same steps, different order, both produce great books.
Q: How difficult is it to show a whole world through the lens of one biased narrator?
It's usually more of a tool than an impediment, actually. I modeled Mycroft on a mixture of Severian in Gene Wolfe's Book of the New Sun, and on Diderot's narrative style in Jacques the Fatalist, and both of those use strange and very strong narrative styles where the narrators express a lot of their opinions and ideas and explanations, and include a lot of their interiority, which is a tool you can use to get so much across: information about events earlier, about history, about the belief systems of that world, about the ways the narrators describe themselves as strange which tells you what the narrators think is normal, and it creates a kind of puzzle where a lot more layers of information are happening at once compared with a simple narrator who just sees and reports. And once the reader becomes very conscious of the narrators' unreliability in such works then the reader starts thinking critically about it, trying to read between the lines and question more. In many ways, when you think the narrator is reliable that leads the reader to question less, analyze less, pick up details less, trusting the narrator to say what's happening, but any narrator is unreliable really, since they all have opinions, points of view: Bilbo is anti-dragon, right? And we don't question it since we think of him as reliable, but with Mycroft or Severian we question everything, and that leads to a more careful and critical read. So it's almost always more an asset than not, especially since when I want to make clear to a reader that a fact is a fact I have tools for that, like having other characters confirm it. The one thing that is challenging, though, is having a narrator who is actively distrusted by some people, since then it can be hard to figure out how the narrator could get a hold of a particular piece of information that I want the reader to get. In book 3, for example, Mycroft has access to a lot of what is happening but there is just no one in the upper ranks of the Mitsubishi who would trust him enough to give access, so it was very difficult figuring out how to give the reader access to what the Mitsubishi are doing there (chapter 10 of The Will to Battle is where you see this in action)
Q: Is there going to be a movie or TV series? Could there be?
Periodically I do have talks with various people who have an ambition to make it into a Netflix-type TV series, and it is interesting to think about. It's waaaaaay too complicated, really, I used to imagine the only way it could be done would be as one of those terrible made-for-TV Scifi channel miniseries specials, the ones that are always way too ambitious and have campy special effects and try too hard and make no sense, like the old Merlin miniseries, or the weird Dune miniseries if anyone remembers those. But with the new Netflix model it's not impossible. Even if a series didn't manage to capture much of the original, if it could present some of the basic world concepts, exposing a lot more people to ideas of voluntary citizenship, and spreading the terms bash' and voker, I think that alone would do a lot of good even if the rest of it were atrociously bad. It would also be a great thing for diversity since it has a minority white cast of characters and people from all parts of the world, and it's a good thing for there to be more TV like that, with characters from Francophone Africa, and India, and Korea, and Japan, and Chile, and Turkey, and lots of mixed-race characters, and characters whose race and nationality are an unexpected mix, like Toshi being both black and Japanese, which does happen but hardly ever gets depicted. There's also a great opportunity for trans and nonbinary rep, in casting the complex characters of Carlyle, Dominic, and Sniper (so excited for some of the casting in the ongoing Graphic Audio cast recordings, they have an amazing nonbinary performer Taylor Coan doing Sniper, and an absolutely brilliant trans woman Kay Eluvian doing Carlyle Foster, we've had great exchanges about the complexities of Caryle's gender & identity developments over the course of the series).
One thing that would be complex, and that I'd be very excited about in such an adaptation, is how to handle sex and gender in casting, since there are so many different options. One that I think would be really cool, and which we are doing in the currently-in-production new set of cast audio recordings (different performers for each character) is to experiment with "gender-blind" casting, imagining that this is an adaptation being made in the Terra Ignota future and that they cast performers in roles they think that performer would be great at without regard to whether their bodies match the anatomical sex of the person they're performing. So when I would imagine a cast I would often imagine John Hurt as Madame D'Arouet because he would have been amazing, or Helen Mirren as Papadelias. But casting actors more traditionally could also be powerful because you could juxtapose the feeling of the book vs. the show where you would be looking at a person whose body seems female and thinking "her" in your head as you watch but in the book it would be "he" and you could compare how you felt about people.
The oddball answer to who I would ideally cast, apart from many of the audiobook people being amazing, is that I really love listening to Derek Jacobi narrate audiobooks, he's so brilliant in his Iliad audiobook especially, I love hearing him do so many different voices, his Helen, his Hera, his Hector, his Zeus, His Thetis. So if it were being made just for an audience of me I would want an animated series with every single voice done by Derek Jacobi! But I know that's a very idiosyncratic want. I would really love if he was any part in any version of it, of course. Beyond that there is a stage actor called Jamie Wilkes who I saw as Dromio of Ephesus in the Globe Comedy of Errors who has amazing body language performing as the servile but prickly slave character in that play, so I think he would be a fabulous Mycroft. And it's very odd but since I also listen to a lot of anime I have opinions about voice actors too, and would really love to hear JEDD Mason voiced by Seki Toshihiko, based on the voice he gave to Alexander the Great in Reign, or his roles in Gundam Seed & Destany. But on the whole, if it were adapted, what I would really want to see is a lot of opportunities to encounter for the first time a lot of really great actors of groups that don't get a lot of representation on TV (trans, nonbinary, mixed race, international)!