Worldcon Schedule & Terra Ignota Calendar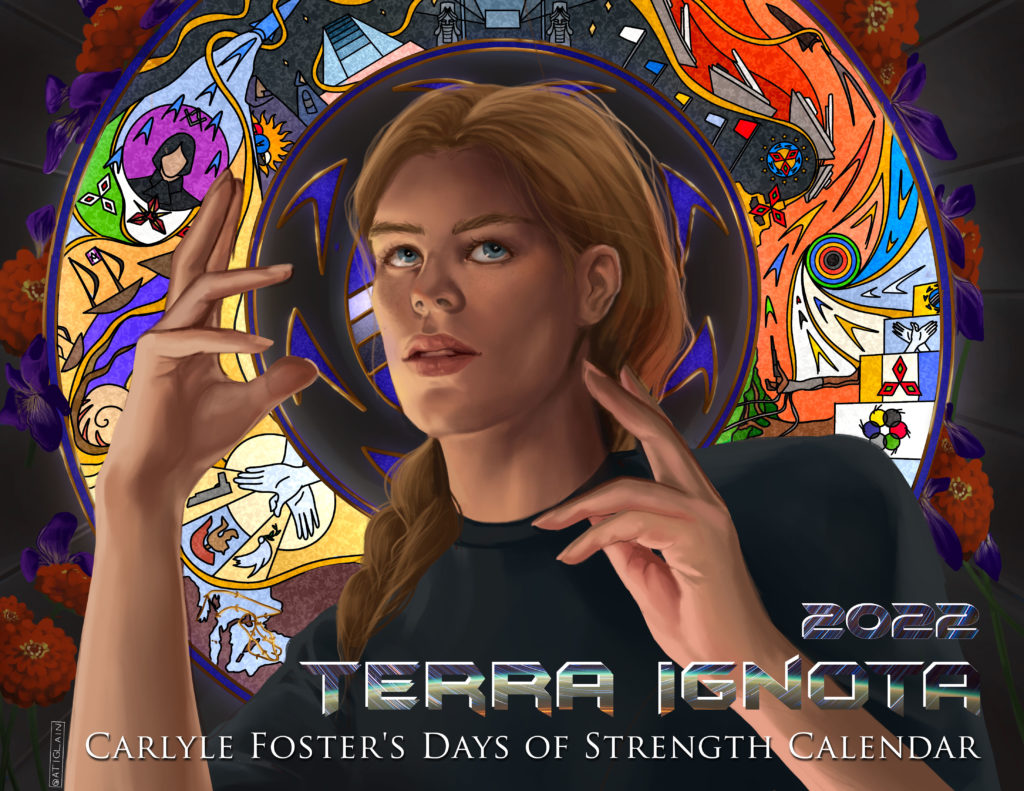 No essay today, friends, but two announcements, of a fun project and sharing the spectacular list of panels I'm doing at Discon (Worldcon) in Washington DC in a few weeks! Worldcon is hybrid this year, so many of my panels will be available online!
Fun project first: working with the brilliant crafts & design artist Unusual Frequency, and the likewise brilliant portrait artist Atiglain, and with my dear friend Jo Walton, we've created (and you can now order)  a 2022 Terra Ignota calendar, the "Carlyle Foster's Days of Strength Calendar" featuring on every single day of the year one or more religious holidays which would be the reason Carlyle Foster rises with strength that day.  It was a lot of work (with generous crowdsourced help!) assembling the holidays, and for the art we had amazing fun combining Atiglain's character portraits with some of my photography (and a few other photos), doing the design to put images in dialog to represent different characters and themes in the book. It's been something of a therapeutic project for me during my recent bad health turn. My mother is an artist so when I was little we had some pretty powerful computer graphics design software, so one of my favorite ways to play after school was creating imaginary publications, like magazines for mermaids. Graphic design was definitely one of the careers I considered when starting college, and it's always a bit fun flexing my old graphic design muscles.
Here are samples of a few of the pages from it. I can't say "a few of my favorites since I love ALL of them, but these I think demonstrate a good range, and include some of the ones that have a fun story:
To start, here's one of Sniper – I really enjoy when discussing Sniper with people hearing about their different ideas about Sniper's appearance given the complex ancestry mentioned in the book. Here's Atiglain's image, paired with one of my own favorite photos of fencers in action, "deepdreamed" by Jo.  Deepdream is one of these AI computer-generated art programs, where you can take a photo and then modify it using a "style" based on another image, in this case a starscape, rendering the fencers as almost a constellation. Jo does a lot of stunning Deepdreams, often using my photos, and we share them on Twitter in the #SomethingBeautiful hashtag.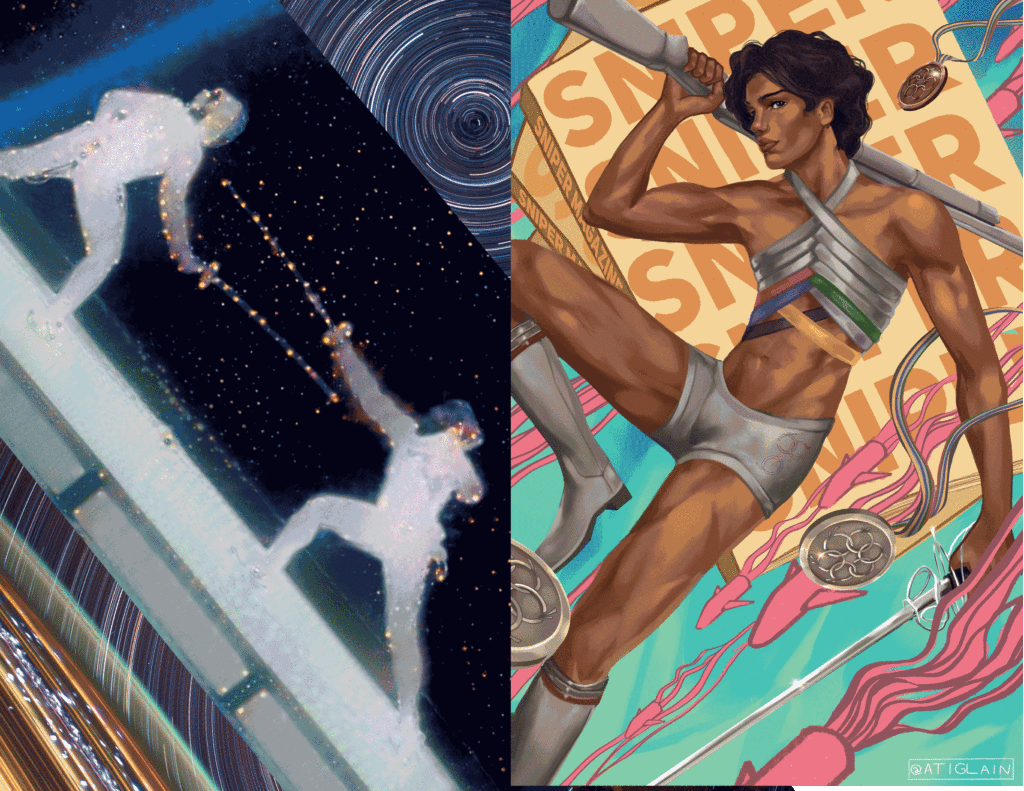 This one witth an amazingly gorgeous portrait of Vivien in his Censor's uniform in Romanova was extra fun because I was able to use part of the map I created as part of my world building, where I worked out the dominant Hive composition of every major city on Earth (plus Luna City of course!), factoring in cultural background and extrapolating forward. It uses the Romanova flag for mixed cities with no strong pluarlity. I've also created a version where you can see the whole thing, which I hope to share at some point as a full Terra Ignota map.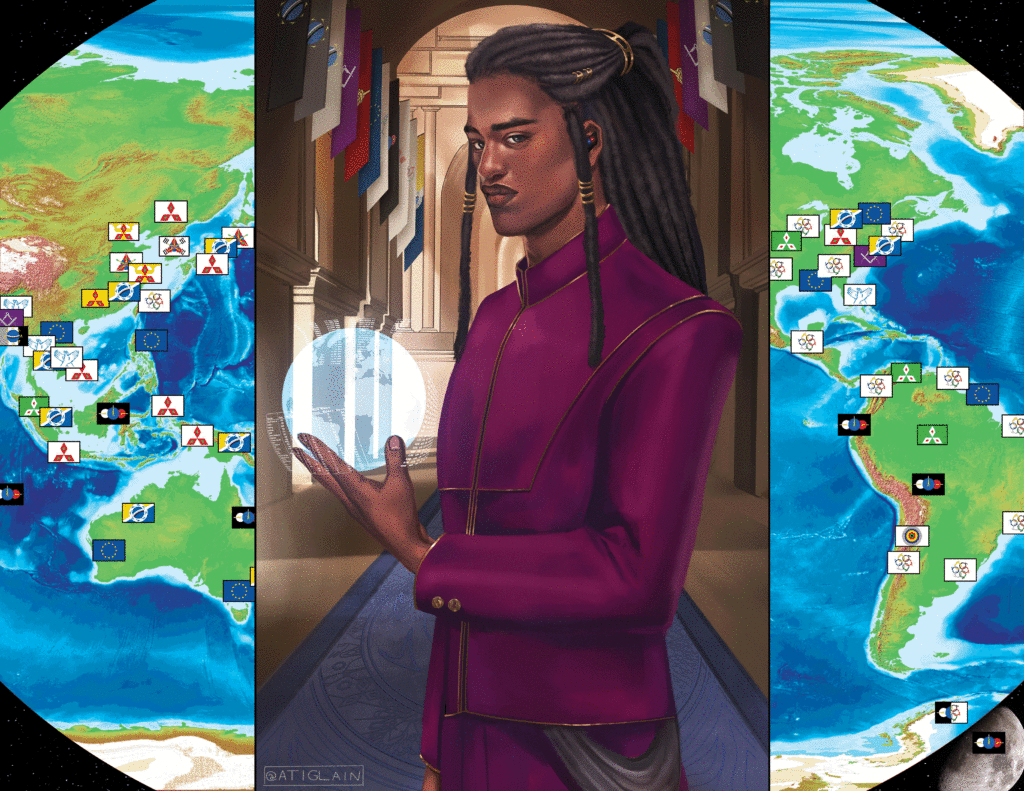 Here's Atiglain's spectacular Dominic portrait paired with the Black Laws and a photo that's especially dear to me: when Too Like the Lightning came out in French, I visited Paris on the way to going to the Utopiales conference, and took a copy with me to visit the Parisian Pantheon, where Voltaire and Rousseau are buried and where they have the cenotaph of Diderot (since his grave in St. Roche was destroyed). It was very much a pilgrimage for me, to visit and show them I'd written something in reply to them.  I've visited the Pantheon a number of times in the past, but this time, when Jo and I (we took the trip together) stepped around the corner, we gasped: there was a spectacular rainbow arcing right over it!  It felt (especially since I'd recently written the sections of Perhaps the Stars that quote Hobbes's discussion of rainbows and miracles) like a very special affirmation.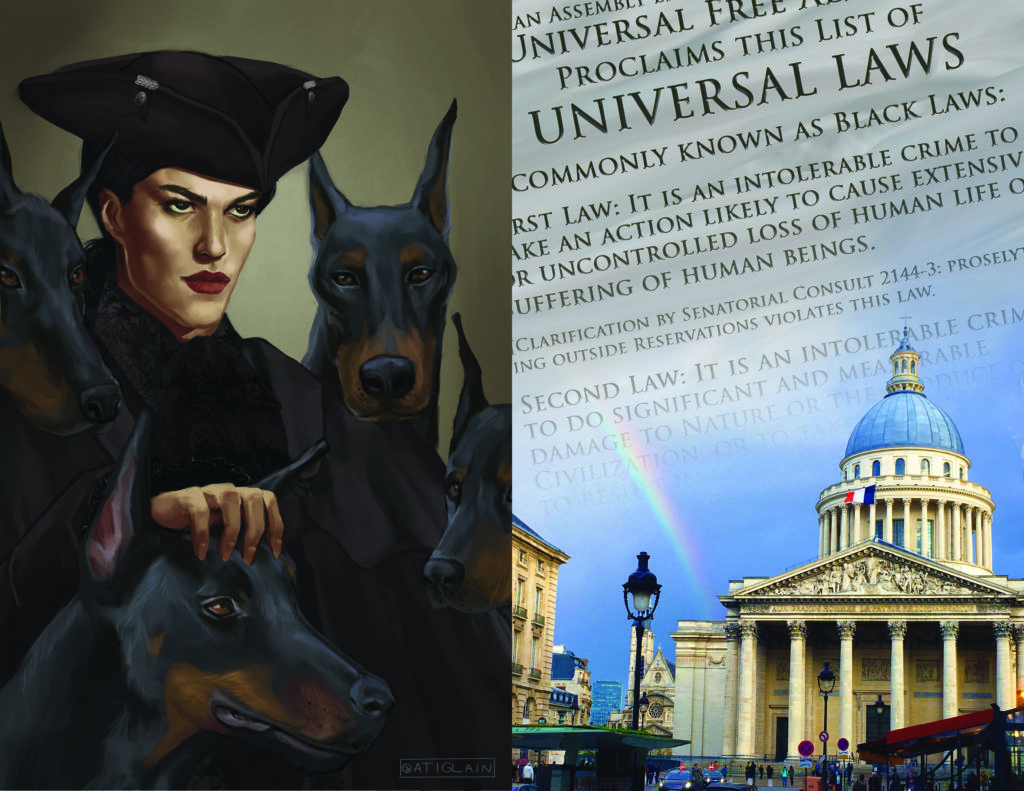 The one where I flexed my graphic design skill the most was this visualization of Eureka Weeksbooth within the data sea. A lot of the portraits began with Atiglain having an awesome idea for how to depict the person and then me finding an image to match, but here I came up with the concept, and Atiglain did this gorgeous line art of Eureka. The digital imagery around Eureka is actually a heavily-transformed photograph of a celestial globe in the Museo Galileo in Florence, I'll post the original photo below so you can compare. The photo gave it a perfect sense of depth and structure, with the information orbiting the figure at the core: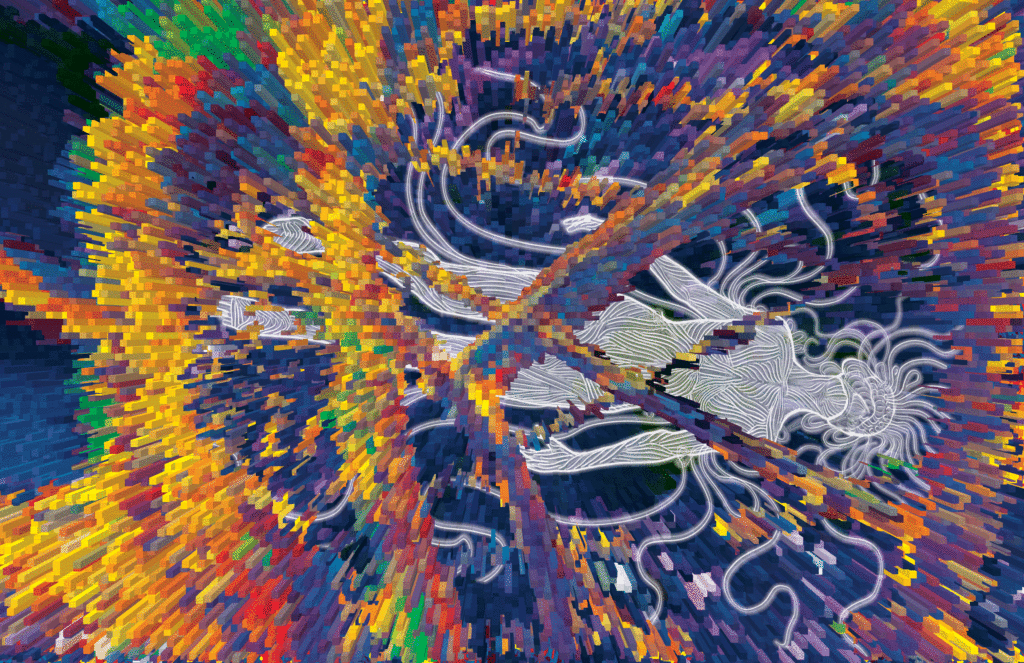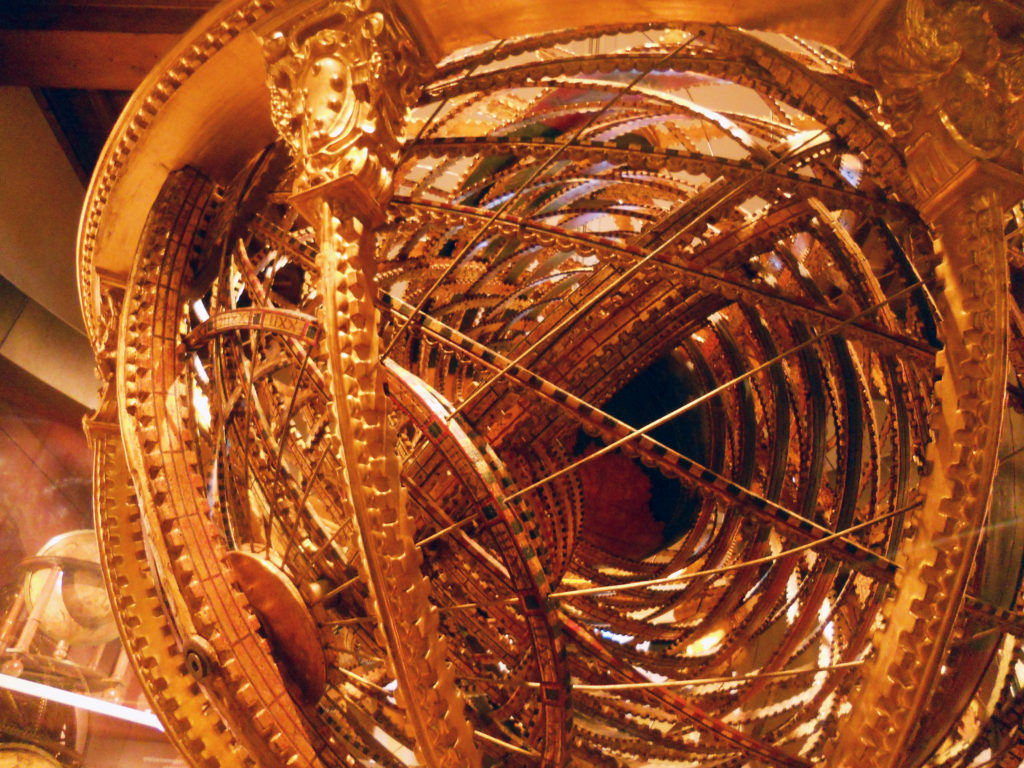 I don't want to give away all my favorites (there are also amazing Utopians, of Cato Weeksbooth, of Him, etc.) but finally, here's Atiglain's stunningly brilliant Mycroft portrait (with stained glass images representing many parts of the series) paired with one my very favorite ever photos, of the road leading to the Athenian treasure house at Apollo's sanctuary at Delphi: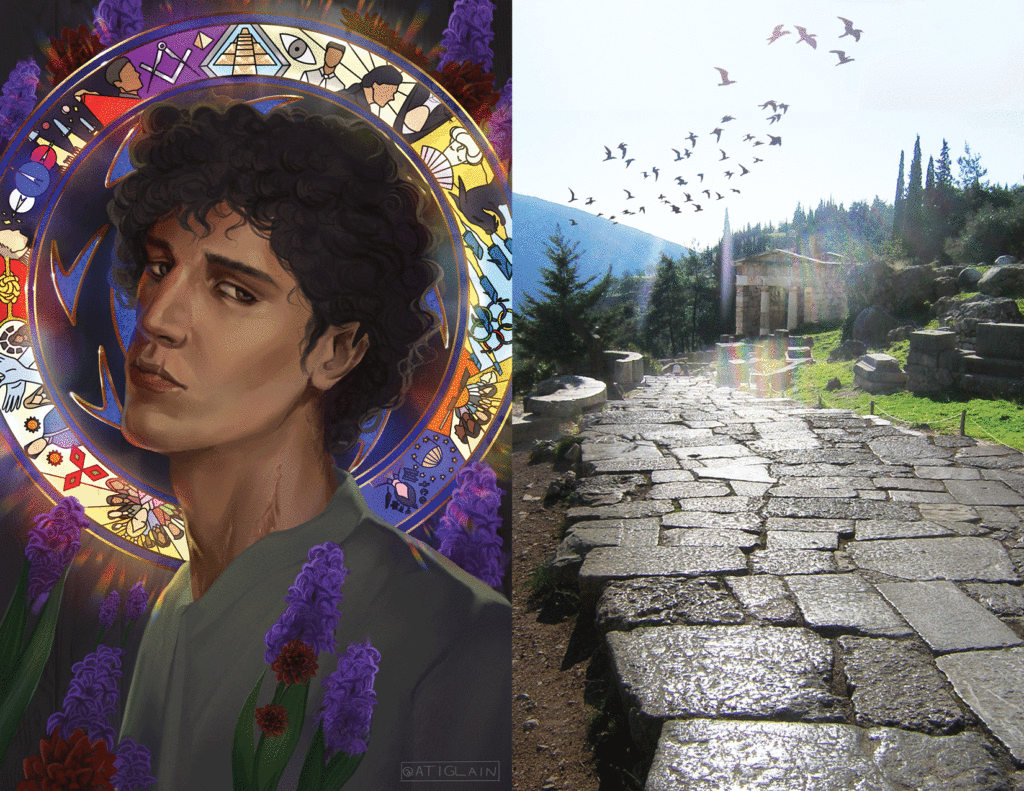 That's the calendar! The rest of it is just as amazing (I loved designing the page for Cato! And the photo pairing for JEDD Mason has such amazing color synergy!)  So if you want to have reasons to rise full of strength every day of 2022, plus some fun Terra Ignota art, you can order it here! 
Meanwhile My (current) Worldcon Schedule (may still change slightly):
This Worldcon is going to be my first foray outside my home (other than the hospital) since my health took its bad turn this summer, but I've been working hard on physical therapy and will have well-prepared friends there to help me. So, while I'm nervous and I know it's going to be a big strain, I'm really looking forward to seeing people there and rejoining the great conversations about F&SF that happen at a Worldcon!
My panel scheduling for a robust con like a Worldcon is always a little funny, because I love being on craft of writing panels more than anything, but lots of writers go to Worldcon, whereas I also do several things which Worldcon always wants to have panels about but has fewer people who do them: manga/anime, history, costuming, LARP design, education stuff, filk music composition, and disability. Often programming people comment that I'm "too useful" i.e. too well suited for filling out panels they don't have enough people for, to the degree that sometimes that crowds out anything else.  In unlucky cases it means I get put only on panels about the other hats I wear, and don't get to talk at all about writing, which is what I'm always most excited to talk about (especially this year with my first series freshly complete!). So, I am extremely grateful to the heroic Discon programming team for meeting my request to make sure that, even with such a tight program so they're needing to work hard to make sure everyone has good planels, I still got to be on some writing panels, in addition to helping to flesh out panels on more oddball topics that I fit. In a couple cases they stuck me in onto writing panels where others had dropped out but the topics are fun, which is a perfect solution.
Start Time      Duration            Room Name          Session ID                      Title
Wed 5:30 PM    50 Min        Empire Ballroom            696         Concert: Sassafrass (online)
Wed 7:00 PM    1 Hr          Kress                                     473         Assistive Technologies (online)
Thu 4:00 PM    1 Hr          Diplomat Ballroom            600         Role of New Tech in Preserving History  (online)
Thu 5:30 PM    1 Hr          Cabinet Room                     522         Ye Olde Costumes
Thu 7:00 PM    50 Min        Blue Room                       816         The Work of Malka Older (moderating)  (online)
Fri 11:30 AM   1 Hr          Blue Room                           728         Creating New Mythology Hidden History  (online)
Sat 10:00 AM   1 Hr          Blue Room                         408         The Nuts and Bolts of Chapters (online)
Sat 1:00 PM    1 Hr          Congressional (A&B)         585         LARPing: 2021 and beyond (online)
Sat 2:30 PM    50 Min        Autographs 2                   1004       Signing – I'll have stickers & other fun things!
**Sat 5:30 PM    1 hr        Forum Room                     1004        Why Won't You Stay Dead? **still a maybe
Sat 7:00 PM    50 Min        Suite 325 Side Room     1106        Kaffeeklatsch (please do sign up!)
Sun 9:00 AM   30 min        SFWA Table                   508         extra little signing at the SFWA booth
Sun 11:30 AM   1 Hr          Calvert Room                    508         Anime and Manga in Translation
I'll also be organizing some sort of off-the-schedule Terra Ignota party or group discussion thing, possibly online possibly in person, since I really want to celebrate this as the series completion Worldcon, but I'm still working out the logistics. I'll be sure to post about it when there's a plan!