5 News Items: Podcast, Online Teaching, Gene Wolfe, Audiobooks, & Perhaps the Stars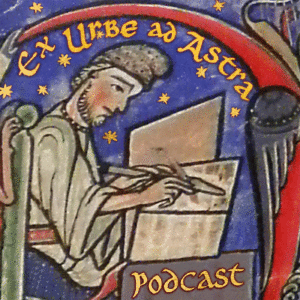 Hello, friends – I have a proper essay underway, but short-term I have a five pieces of exciting news:
My new podcast,
An online history course I'll be teaching this fall through U Chicago's Graham school, which isn't free but can be taken by anyone from anywhere.
My Introductions to Gene Wolfe's Book of the New Sun,
A new Terra Ignota audiobook series is coming soon from Graphic Audio
The approaching publication of Perhaps the Stars, the fourth and final volume of Terra Ignota.
First I have a podcast now!
It's called Ex Urbe Ad Astra
Partnering with my good friend and fellow author & history lover Jo Walton (more on her below), we interview fellow writers, historians, researchers, editors, and other friends, talking about the craft of writing, history, food, gelato, and other nifty topics, with some episodes of just me and Jo having the kinds of intense writing or history discussions we enjoy. You can listen for free on Libsyn, on Apple Podcasts, on Spotify, and on YouTube.  Those who support me on Patreon get new episodes early (and new ExUrbe posts early too.) 
Sample Episode: Speculative Resistance with Malka Older
The episodes in this first season are modeled on the kinds of panel discussions one has at science fiction conventions, and are long (an hour plus), and since our interviewees are all so interesting! Episodes of this season will come out monthly, with occasional bonus episodes, those are the ones with just me and Jo.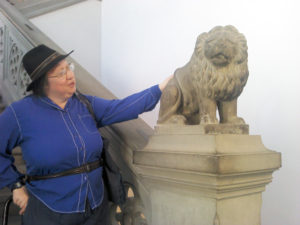 For those who aren't familiar, Jo Walton is a voracious reader in a huge number of genres with an encyclopedic knowledge of the history of genre literature, as well as the Hugo and Nebula award-winning author of more than a dozen novels including Among Others, and an F&SF critic, author of What Makes This Book So Great and An Informal History of the Hugos. Jo and I travel a lot together when I go to Europe for research, and we've had such wonderful conversations over the years connecting dots between our shared interests in history and the writer's craft that we wanted to share such discussions for more people to enjoy.
Interviewees in the first season (to give a sense of the range) include Malka Older, political scientist and author of Infomocracy, Jonathan Sneed, a Mars astrogeologist & astrobiologist, Ruthanna Emrys, a city/state planning & politics expert and author of the Innsmouth Legacy series, Mary Anne Mohanraj a wonderful writer friend and creator of Sri Lankan cookbooks, Max Gladstone, author of The Craft Sequence and a favorite friend to discuss the craft of writing with, David M. Perry, journalist, activist, and Medieval historian, Emily Cambias, game writer & editor/writer for Cricket, the children's magazine company, and another writer friend Naomi Kritzer, author of Cat Fishing on CatNet.
Second, I'm Teaching an Open-to-All Online History Course This Fall!
I've long wanted to find a way to open up my teaching beyond the university, so through U Chicago's Graham School continuing education program, and taking advantage of the Zoom skills we've all developed this year, I'm teaching an online course this fall on Saturdays, 10 AM to 12:30 PM Central Time, called FFAC10100 Monks to Voltaire: European Intellectual Transformations 1200-1750. It's a version of a course I've taught for undergrads which starts with late Medieval thought and looks at four successive major revolutions in European ideas, scholasticism, then Renaissance "humanism," then the 17th century's "new philosophy" or "scientific revolution", then the Enlightenment, presenting them in continuity and showing how they didn't replace each other (as summaries often make it seem), but rather joined each other, continuing to thrive side-by-side. I'm aiming at a variant on a "flipped" model of a course, in which I will share the lectures as text transcripts people can read, and then the class sessions can be entirely Q&A digging in more intensively. If you're interested, anyone can register for it, and you can learn more at the discussion I'm going to have about it with the Graham School staff on August 24th, which you can register for here: Conversations @Graham, August 24 | UChicago Graham
Third, My Introductions to Gene Wolfe's Book of the New Sun
Tor invited me to write introductions for the new Tor Essentials editions of Gene Wolfe's four book Book of the New Sun, collected into two volumes, Shadow & Claw and Sword & Citadel. It's hard to express how formative these books were for me, staggeringly brilliant and ambitious SF which showed me how high I could aim, how deep world building can reach, and how complex a narrator can be. I haven't felt nearly so nervous and impostor syndromy about a project in a long time as sitting down to write about these books, so seminal both for the history of science fiction and for me, but I'm really happy with the resulting essays, so if you'd like to read or reread (these are books designed for rereading!) some incredible SF with a little bit of my guidance, I can't recommend them enough, especially to anyone who enjoys Terra Ignota.
Speaking of which…

Fourth, a new Terra Ignota audiobook series is coming from Graphic Audio
I'm extremely excited for this project, now up for pre-order. I'm planning to do a blog post about them soon, but while the Recorded Books audiobooks have a single actor, these are a cast recording, with many different performers playing the different roles, and it's amazing how different that is in terms of things it can achieve. At my suggestion we're trying a somewhat radical experiment, so the recording begins a note from Gordian saying the performances have been made in line with Gordian's recommended genderblind casting practices, and then the casting of the parts is largely unrelated to the gender of the performers, so voices of all kinds are playing characters of all kinds, letting performers who never usually get to do a booming-voiced old man or a delicate child exercise those parts of their ranges, and adding an amazing additional layer to the book's complexly-worked gender confusion, layering on top of how Mycroft's use of pronouns often doesn't match physical descriptions of bodies, and now it won't match voices either, further encouraging the listener to question all Mycroft's gendered language and to examine even more how perceived gender affects the way we judge or react to different characters. I'm also especially excited that, against this backdrop of intended ambiguity, the amazing casting director Alejandro Ruiz met my requests to be careful about representation, and found brilliant trans woman Kay Eluvian to play Carlyle Foster, and a nonbinary performer, Taylor Coan, to do Sniper.
Alejandro and I are also both excited about how diverse the cast is in terms of race and nationality, even with a performer from Mumbai to play Bryar Kosala, and we're doing some double-casting, giving multiple roles to the same performers to encourage the listener to think about and compare them (Ganymede & Danae for example), creating intertextual links between different characters, modeled on the way the inestimable Jane Howell did it in her direction of her Henry VI sequence for the BBC Shakespeare project, my very favorite work on film. These recordings will be slightly abridged, as Graphic Audio usually does, adding some music and special effects and cutting things like "he said" "she said" or some of the descriptions designed to remind readers of who characters are or where they're from since hearing a Mumbai accent will by itself achieve the same information reminder.  It's been an absolute thrill working on the productions, and I couldn't be more excited for the new layers they're adding to what the books are already aiming at in creating a truly global-feeling cast of characters, and stimulating questioning and introspection about gender.
Fifth and last, the publication of Perhaps the Stars is finally close!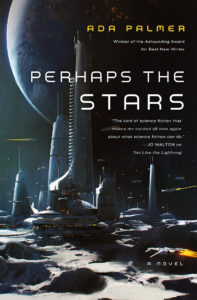 The fourth and final volume of Terra Ignota comes out October 19th, and it's really for sure this time, it has a cover, and the final most finalest final page proofs are done, and all the Latin and Greek and other special characters are taken care of, everything! It's up for pre-order on Bookshop.org and Amazon and Barnes & Noble and at all sorts of local indie bookstores (please support them if you can!). It may not feel like news that a book which has been planned for months to come out in October is actually coming out in October, but it's hard to articulate how many invisible steps there are on the back end, including a somewhat-COVID-related continent-wide shortage of printing press time which is making book printers everywhere struggle for time spots to actually get the physical book made at the factory, pushing a lot of things back to 2022…. but not this thing! I'll definitely be blogging more about book 4 in the coming months, but short version, there are only 2 chapters in the whole of book 4 which, from a craftsmanship point of view, weren't harder than the hardest chapter in any of the earlier three books, and I can't wait to share it with everyone!